Order of Ernest Hemingway Books
TODAY ONLY: $30 off a Kindle at Amazon.com with code KINDLE49. Click here.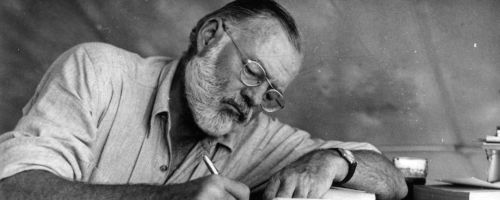 Ernest Hemingway (1899-1961) was an American author and one of the most influential authors of the 20th century. He lived a very adventurous life that is well-documented. He saw action in the First World War (being seriously wounded by mortar fire) and worked as a journalist in World War II. As a novelist, some of his most famous works include The Sun Also Rises, A Farewell to Arms, For Whom the Bell Tolls and The Old Man and the Sea. He survived two back-to-back plane crashes, which tragically led to Hemingway committing suicide in 1961 at the age of 61.
Ernest Hemingway made his literary debut in 1923 with Three Stories and Ten Poems – a short story collection. His first novel was three years later in 1926, titled The Torrents of Spring. Below is a list of Ernest Hemingway's published works in order of when they were originally released:
Publication Order of Standalone Novels
| | | |
| --- | --- | --- |
| The Torrents of Spring | (1926) | |
| The Sun Also Rises | (1926) | |
| A Farewell To Arms | (1929) | |
| To Have and Have Not | (1937) | |
| For Whom the Bell Tolls | (1940) | |
| Across the River and Into the Trees | (1950) | |
| The Old Man and the Sea | (1952) | |
| Islands in the Stream | (1970) | |
| The Garden of Eden | (1986) | |
Publication Order of Short Story Collections
| | | |
| --- | --- | --- |
| Three Stories and Ten Poems | (1923) | |
| In Our Time | (1925) | |
| Men Without Women | (1927) | |
| Winner Take Nothing | (1933) | |
| The Fifth Column | (1938) | |
| The Snows of Kilimanjaro and Other Stories | (1961) | |
| The Nick Adams Stories | (1972) | |
If You Like Ernest Hemingway Books, You'll Love…
Shop Worldwide: Amazon.com | Amazon.co.uk | Amazon.ca