Order of Pellucidar Books
TODAY ONLY: $30 off a Kindle at Amazon.com with code KINDLE49. Click here.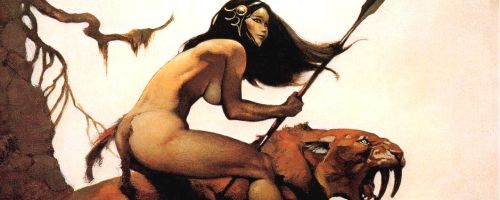 Pellucidar is a series of adventure novels by American author Edgar Rice Burroughs. In the series, the Earth is hollow and Pellucidar is the internal surface. Pellucidar is inhabited by primitive people and dinosaurs. The series crosses over with Edgar Rice Burroughs' most popular series when Tarzan travels into Pellucidar.
Edgar Rice Burroughs began the Pellucidar series began in 1914 with At the Earth's Core. The series would end 13 years after Burrough's death in 1963 with Savage Pellucidar. Below is a list of Edgar Rice Burroughs' Pellucidar series in order of when the books were originally released (as well as in chronological order):
Publication Order of Pellucidar Books
| | | |
| --- | --- | --- |
| At the Earth's Core | (1922) | |
| Pellucidar | (1923) | |
| Tanar of Pellucidar | (1929) | |
| Tarzan at the Earth's Core | (1930) | |
| Back to the Stone Age | (1937) | |
| Savage Pellucidar | (1941) | |
| Land of Terror | (1944) | |
Chronological Order of Pellucidar Books
| | | |
| --- | --- | --- |
| At the Earth's Core | (1922) | |
| Pellucidar | (1923) | |
| Tanar of Pellucidar | (1929) | |
| Tarzan at the Earth's Core | (1930) | |
| Back to the Stone Age | (1937) | |
| Land of Terror | (1944) | |
| Savage Pellucidar | (1941) | |
If You Like Pellucidar Books, You'll Love…
Shop Worldwide: Amazon.com | Amazon.co.uk | Amazon.ca