Order of Xanth Books
TODAY ONLY: $30 off a Kindle at Amazon.com with code KINDLE49. Click here.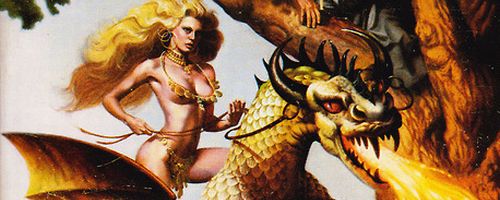 Xanth is a series of fantasy novels by American novelist Piers Anthony. The humans in Xanth all have a magical ability (called a "talent"). Almost all abilities are exclusive to a human character and are not shared with any others. In addition to the humans, the world is populated by centaurs, demons, dragons, fauns, gargoyles, goblins, golems, harpies, merfolk, naga, nymphs, ogres, zombies, curse fiends and other creatures.
The Xanth series began in 1977 with the novel A Spell for Chameleon. The series was originally planned as a trilogy, but with the success of the first three books, the series was expanded to nine… and then eventually became open-ended. Most of the novel titles are puns, such as Crewel Lye and Stork Naked. Below is a list of Piers Anthony's Xanth books in order of when they were originally published (which is also their chronological order):
Publication Order of Xanth Books
| | | |
| --- | --- | --- |
| A Spell for Chameleon | (1977) | |
| The Source of Magic | (1978) | |
| Castle Roogna | (1979) | |
| Centaur Aisle | (1981) | |
| Ogre, Ogre | (1982) | |
| Night Mare | (1982) | |
| Dragon on a Pedestal | (1983) | |
| Crewel Lye: A Caustin Yarn | (1984) | |
| Golem in the Gears | (1985) | |
| Vale of the Vole | (1987) | |
| Heaven Cent | (1988) | |
| Man from Mundania | (1989) | |
| Isle of View | (1990) | |
| Question Quest | (1991) | |
| The Color of Her Panties | (1992) | |
| Demons Don't Dream | (1993) | |
| Harpy Thyme | (1993) | |
| Geis of the Gargoyle | (1994) | |
| Roc and a Hard Place | (1995) | |
| Yon Ill Wind | (1996) | |
| Faun & Games | (1997) | |
| Zombie Lover | (1998) | |
| Xone of Contention | (1999) | |
| The Dastard | (2000) | |
| Swell Foop | (2001) | |
| Up in a Heaval | (2002) | |
| Cube Route | (2003) | |
| Currant Events | (2004) | |
| Pet Peeve | (2005) | |
| Stork Naked | (2006) | |
| Air Apparent | (2007) | |
| Two to the Fifth | (2008) | |
| Jumper Cable | (2009) | |
| Knot Gneiss | (2010) | |
| Well-Tempered Clavicle | (2011) | |
| Luck of the Draw | (2012) | |
| Esrever Doom | (2013) | |
| Board Stiff | (2013) | |
If You Like Xanth Books, You'll Love…
Shop Worldwide: Amazon.com | Amazon.co.uk | Amazon.ca