Order of Alan Moore Books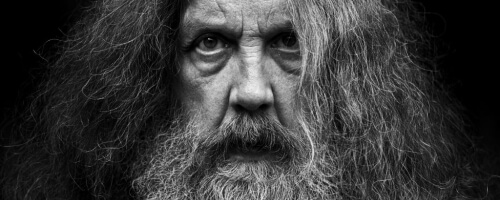 Alan Moore is an English writer best known for writing the Watchmen series of comic books. That book was made into a film and a television series while his V for Vendetta was also made into a film.
Alan Moore is considered one of the greatest and most influential comic book writers of all-time. In addition to writing comics, Moore has also written novels called Voice of the Fire and Jerusalem. He also performs spoken word/performance art pieces that he calls "workings". Some of these performances have been released in audio.
Publication Order of Albion Books
(with Steve Holland, Kenneth Bulmer)
Publication Order of Crossed + 100 Books
Publication Order of Miracleman Books
Publication Order of Providence Books
(with Jacen Burrows)
Publication Order of The League of Extraordinary Gentlemen Books
Publication Order of Tom Strong: Deluxe Editions Books
Publication Order of Standalone Novels
Publication Order of Non-Fiction Books
Publication Order of Short Story Collections
Publication Order of Graphic Novels
Publication Order of Best of 2000 AD Books
(with Al Ewing)
Publication Order of Anthologies
If You Like Alan Moore Books, You'll Love…
Jerusalem is a literary work that took ten years for Moore. The book really breaks all the rules of contemporary prose and tells a wholly unique story in a unique way. Each chapter is told from a different character's point of view while also jumping around through time from the Middle Ages to the end of the universe and everywhere in between. This is a big, complex novel, but it is also very rewarding as it is both hilarious and heartbreaking. A book that only Moore could've written.
Moore's masterpiece is considered by many to be Watchmen. The book explores the effect that superheroes actually existing would have in our world. With the United States having won the Vietnam War thanks to the assistance of superheroes while Richard Nixon remained president of the U.S. The book follows a group of superheroes who have some real human problems and the book manages to dissect what it means to be a superhero and what would drive someone to become a superhero in some illuminating and fascinating ways. Legendary characters like Dr. Manhattan and Rorschach fill the pages and help to tell a story about politics, morality, humanity, and much more.
Order of Books » Authors » Order of Alan Moore Books