Order of Autumn Jones Lake Books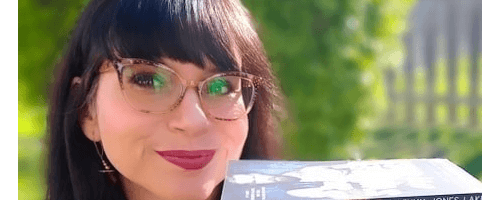 Autumn Jones Lake is an American author of contemporary romance novels. She writes the Lost Kings MC series, and is a USA Today bestselling author. Autumn was born and raised in upstate New York, which is where she sets her novels. Prior to becoming a novelist, she baked cookies, sold shoes, and worked as a lawyer.
Autumn Jones Lake made her debut as an author in 2014 with Slow Burn, beginning the Lost Kings MC series. Below is a list of Autumn Jones Lake's books in order of when they were first released:
Publication Order of Lost Kings MC Books
| | | |
| --- | --- | --- |
| Slow Burn | (2014) | |
| Corrupting Cinderella | (2014) | |
| Three Kings, One Night | (2014) | |
| Strength from Loyalty | (2015) | |
| Tattered on My Sleeve | (2015) | |
| White Heat | (2016) | |
| Between Embers | (2016) | |
| More Than Miles | (2016) | |
| White Knuckles | (2017) | |
| Beyond Reckless | (2017) | |
| Beyond Reason | (2017) | |
| One Empire Night | (2017) | |
| After Burn | (2018) | |
| After Glow | (2018) | |
| Zero Tolerance | (2019) | |
| Zero Regret | (2019) | |
| Zero Apologies | (2019) | |
| White Lies | (2019) | |
| Swagger and Sass | (2019) | |
| Rhythm of the Road | (2020) | |
| Lyrics on the Wind | (2021) | |
| Diamond in the Dust | (2021) | |
| Crown of Ghosts | (2021) | |
| Throne of Scars | (2022) | |
| Reckless Truths | (2022) | |
| Rust or Ride | (2023) | |
| Agony to Ashes | (2023) | |
| Twist the Knife | (2024) | |
Publication Order of Lost Kings MC World Books
Publication Order of Catnip & Cauldrons Books
Publication Order of Kickstart Trilogy Books
Publication Order of Standalone Novels
Publication Order of Anthologies
| | | |
| --- | --- | --- |
| Love, Again | (2012) | |
| Rev the Engine | (2015) | |
| Pink | (2015) | |
| '80s Mix Tape | (2016) | |
| Love, Loyalty & Mayhem | (2019) | |
| Dissent | (2022) | |
If You Like Autumn Jones Lake Books, You'll Love…
Autumn Jones Lake Synopses: In Bullets & Bonfires by Autumn Jones Lake, returning to her hometown, grad student Brianna Avery seeks solace and healing in the place she once called home, free from the clutches of an abusive past. With her tormentor now behind bars, Bree longs for a summer of tranquility before resuming her studies. However, her brother, determined to keep her safe, arranges for her to be accompanied by none other than the town's sexy sheriff—the one man she's always desired.
Liam Hollister, now the charismatic sheriff of their close-knit community, grapples with his own conflicted emotions. Four years ago, he denied his attraction to Bree to preserve his friendship with her brother. Despite the intense temptation she presents, Liam remains resolute in doing what he believes is right. As a deputy sheriff, his duty is to protect, even if it means denying his own desires.
As the scorching summer days unfold, Bree and Liam find themselves in close quarters, testing their resolve and rekindling old flames. Their shared history resurfaces, bringing with it a rush of intense emotions. The palpable chemistry between them becomes harder to ignore, and the lines between protection and desire blur.
Onyx Night by Autumn Jones Lake is the first book in the Catnip & Cauldrons series. In a small and uneventful hometown, Onyx Knight dreams of escaping to a larger world beyond its borders. With unwavering support from her parents, she takes the leap and enrolls at the local university, where a forbidden attraction simmers between her and her enigmatic Medieval History professor, Cole Radcliffe. As fate twists, thrusting Onyx into an unexpected realm of secrets and self-discovery, her life takes an unimaginable turn.
Amidst the chaos of a family tragedy, Onyx unearths a hidden facet of herself, one she never could have anticipated. In her hour of need, family friends step forward, offering assistance—but with their help comes a price she refuses to pay. As the pressure intensifies, and the threat of force looms, Onyx chooses to flee, embarking on a perilous journey to evade those who seek to control her.
Cole Radcliffe, harboring his own enigmatic past, stumbles upon Onyx at her most vulnerable moment. Against his better judgment, he extends a lifeline and takes her under his protection. Determined to keep her safe, Cole finds himself entangled in a web of secrets and desires. Yet, as their connection deepens, he realizes that safeguarding Onyx from external threats is futile if he can't protect her from the allure of their own emotions.
Slow Burn by Autumn Jones Lake is the first book in the Lost Kings MC series. Rochlan "Rock" North is no stranger to the rough and wild life as the President of the Lost Kings MC. He's lived by his own rules, never finding a reason to settle down—until he crosses paths with Hope Kendall, an innocent and devoted lawyer trapped in a seemingly perfect marriage.
Hope's life takes an unexpected turn when she's assigned to represent the enigmatic outlaw biker. Despite her strong principles, she's drawn to Rock's dangerous allure. Their chemistry is undeniable, but Hope is committed to her marriage and her values, unwilling to jeopardize everything she's worked for.
Rock recognizes the spark between them, yet he's determined to honor Hope's boundaries and leave her be. He respects her too much to push her into a life she's not ready for. However, when danger comes knocking and Hope's safety is on the line, Rock realizes that staying away might be the greatest risk of all.
Tragedy strikes, forcing Rock to confront his own emotions and past mistakes. Driven by a desire to earn Hope's forgiveness and prove their undeniable connection, he embarks on a mission to win her heart. As they navigate the complexities of their worlds colliding, Rock and Hope must confront their differences, face their demons, and find a way to forge a love strong enough to withstand the odds stacked against them.
Order of Books » Authors »