Order of Barbara Bourland Books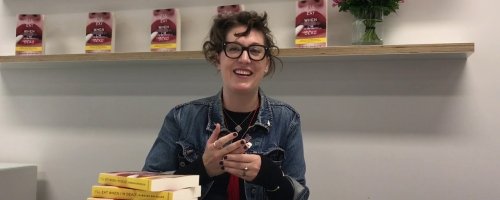 Barbara Bourland is an American author who burst onto the scene with her debut novel, I'll Eat When I'm Dead. The book received many great reviews upon its release and was also named a Refinery29 Best Book of 2017.
Prior to publishing her first novel, Bourland was primarily a freelance writer and web producer for titles at publications like Condé Nast and Hearst. Bourland is married and lives in Baltimore, Maryland with her husband. She is also the author of Fake Like Me which takes a satirizing look at the New York Art World.
Publication Order of Standalone Novels
If You Like Barbara Bourland Books, You'll Love…
I'll Eat When I'm Dead was Bourland's debut novel. The book sees a stylish woman named Hillary Whitney dying alone in a locked conference room at the offices of RAGE Fashion Book. The death is ruled to be stress related to her diet, but her friend Catherine knows her diet wasn't the problem. When a cryptic note ends up at the NYPD offices, the case is reopened and Detective Huttton is led into the world of RAGE Fashion. Catherine ends up insisting on joining in on the investigation and along with her colleague Bess, the two are determined to solve the case. Their plan backfires when they are soon caught up in a web of drugs, sex, lies and moisturizer.
The art world is the center of Fake Like Me. The book features an unnamed protagonist who has a fire rip through her loft, destroying paintings meant for her first major exhibition. She is left between a rock in the hard place as she can either recreate the lost artworks without getting caught – or ruin her career. It's no question for her so she gets to work at an exclusive retreat. This retreat was also the place where another brilliant young artist drowned herself. The artist is hard at work, but strange secrets keep finding her and she has questions about what happened to the woman who died here.
Order of Books » Authors » Order of Barbara Bourland Books