Order of B.K. Stevens Books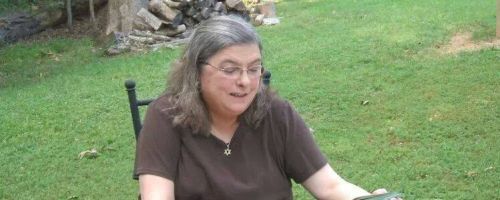 B.K. Stevens (1951-2017) was an American author of mystery novels and short stories. Her goals in life were to teach and to write – she accomplished both. Stevens grew up writing, but put it aside in order to study literature. She earned her Ph.D in English from Boston College. After that, she taught at colleges and universities in six different states. Eventually, she caught the writing bug again after reading Gaudy Night by Dorothy L. Sayers – inspiring her to try to write mysteries. She was married with two adult daughters.
B.K. Stevens made her debut as a novelist in 2015 with the novel Interpretation of Murder. Prior to that, she had published more than thirty short stories in Alfred Hitchcock's Mystery Magazine. Below is a list of B.K. Stevens' books in order of when they were originally released:
Publication Order of Jane Ciardi Sign Language Mysteries Books
Publication Order of Leah Abrams Books
Publication Order of Martial Arts Mysteries Books
Publication Order of Short Stories/Novellas
Publication Order of Short Story Collections
If You Like B.K. Stevens Books, You'll Love…
Barb Goffman
Nancy Brewka-Clark
B.K. Stevens Synopses: Silent Witness by B.K. Stevens is a 29-page prequel to Interpretation of Murder. American Sign Language interpreter Jane Ciardi is on her first day in criminal court, working at the trial of a deaf man accused of murdering his employer. As she interprets, Jane becomes convinced the defendant is innocent and one of the witnesses is guilty. Should she risk her career to make sure the truth comes out?
In Interpretation of Murder by B.K. Stevens, Jane Ciardi's life changes when she takes a job from a Cleveland private detective and agrees to keep tabs on a deaf African-American teenager whose odd behavior alarms her wealthy father. Jane also needs to discover the truth behind two murders – including the murder of the first interpreter the detective hired. To get closer to the teenager, Jane joins a fitness center owned by a family that brings new meaning to the word "dysfunctional." The more Jane learns about the center, the more she suspects some people go there to get more than a workout. Somehow, she realizes, the fitness center's secrets are connected to the two murders and to the deaf teenager's odd behavior. Jane's struggle to unravel all the secrets tests her resourcefulness, her loyalties, and her courage – but will that be enough to save her life?
Order of Books » Authors » Order of B.K. Stevens Books