Order of Caitlin Crews Books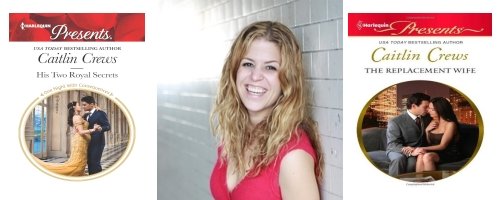 Caitlin Crews is an American romance author. Caitlin Crews is a pen name used by Megan Crane who publishes novels under both names. She discovered romance novels from the age of twelve and began a lifelong love affair with romance novels that led to her later career.
Before becoming a writer she had dreams of being a star on Broadway, but found she didn't quite have the voice to wow the audiences. She then launched herself into academics which took her to England for half a decade. Around this time, she began working on her first novel and getting that book published was one of the thrills of her life.
Publication Order of Vows of Convenience Books
Publication Order of Scandalous Sheikh Brides Books
Publication Order of Castelli Brothers Books
Publication Order of Cold River Ranch Books
Publication Order of Hotel Temptation Books
Publication Order of Billionaires Club Books
Publication Order of Combe Family Scandals Books
Publication Order of Scandalous Royal Brides Books
Publication Order of Standalone Novels
If You Like Caitlin Crews Books, You'll Love…
His Two Royal Secrets is one of the more popular books in the One Night With Consequences book series. Pia is an heiress who is feeling overlooked and lonely in her family. She has one passionate night with a stranger, who turns out to be the Crown Prince of Atila, that makes her feeling beautiful and free. Of course, this night has consequences when she realizes she is actually pregnant with twins. The Crown Prince wants to claim his secret heirs, but can't promise Pia anything more between the two of them. That makes it hard for her considering she's falling in love with him.
The Conveniently Wed! series is another popular series by Crews and Untamed Billionaire's Innocent Bride is one of the early books. Lauren Clarke is an assistant to a billionaire who gets a very interesting task: find her boss's brother – and marry him. She always does as she's asked and when she heads to Hungary's dark forests – she meets Dominik and finds that this task may take her places that she didn't really plan on going as he awakens her long dormant desire.
Order of Books » Authors » Order of Caitlin Crews Books