Order of Deborah Cooke Books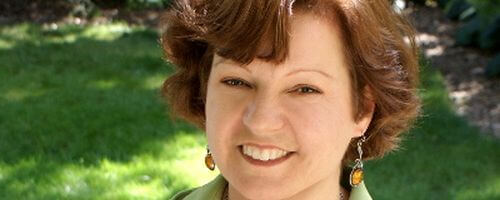 Deborah Cooke is an author of historical, paranormal, contemporary and young adult romance novels. She is best known for her Dragonfire series. Aside from writing as Deborah Cooke, she also uses the pen name of Claire Delacroix, and has also used Claire Cross. She is a New York Times and USA Today bestselling author, and received the Romance Writers of America PRO Mentor of the Year Award in 2012. Deborah was the writer-in-residence at the Toronto Public Library in 2009. She lives in Canada with her husband, and enjoys knitting, sewing and hunting for vintage patterns.
Deborah Cooke debuted as a published author in 2008 with the novel Kiss of Fire. Below is a list of Deborah Cooke's books in order of when they were first published:
Publication Order of Rose Books
Publication Order of Moorish Books
Publication Order of Unicorn Books
Publication Order of Sayerne Books
Publication Order of Bride Quest Books
Publication Order of Bride Quest II Books
Publication Order of Rogues Of Ravensmuir Books
Publication Order of Jewels Of Kinfairlie Books
Publication Order of Prometheus Project / Eyes Of The Republic Books
Publication Order of Time Travel Books
Publication Order of True Love Brides Books
Publication Order of Champions Of Saint Euphemia Books
Publication Order of Brides Of North Barrows Books
Publication Order of Short Story Collections
Publication Order of Non-Fiction Books
Notes: Beguiled also has stories as written by Claire Delacroix. Reading Order for Deborah Cooke's Paranormal Romances and Contemporary Romances, and Claire Delacroix's Medieval Romances also written as Claire Delacroix.
If You Like Deborah Cooke Books, You'll Love…
Deborah Cooke Synopsis: Wyvern's Mate by Deborah Cooke is the first book in the Dragon of Incendium series. Once, in the Kingdom of Incendium, there were twelve princesses of the realm, every one of them a dragon shifter. Each fiery and passionate. Each possessed of an appetite for pleasure that only her destined mate can satisfy. Twelve men are expected in Incendium, each with special powers of his own, each with the gift to claim one dragon princess's heart forever. Troy will do whatever is necessary to earn his freedom from solitary confinement on the penal colony of Xanto, even assassinate a princess of Incendium. Being a MindBender, he has a serious advantage as a predator and thinks the princess in question doesn't stand a chance. Only one of them can survive and Troy knows who it will be – until he meets Drakina. Royal dragon shifter Drakina has a quest of her own, to seduce her destined mate and conceive the crown prince of Incendium. Her father will free her from all other responsibilities if she completes this one task. Drakina wants her independence so badly that she decides to seduce the unattractive Terran who is the Carrier of the Seed. She's sure it will be a quick seduction – until she meets Troy. Worlds collide when Troy and Drakina meet, and passion flares. The attraction is so powerful that they both choose to put their goals aside for one night of passion together. When their respective secrets are revealed, will the truth turn one against the other? Or will destiny allow this star-crossed pair to save each other and their unborn son?
Order of Books » Authors » Order of Deborah Cooke Books