Order of Edward Lee Books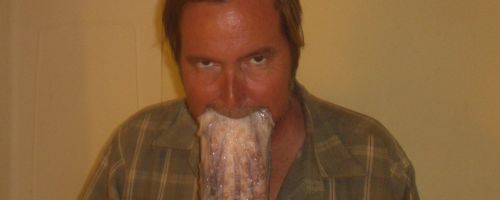 Edward Lee is an American author of horror and thriller novels. He writes the Infernal series. Edward served in the U.S. Army Security Agency and was stationed in West Germany, where he was the lone M60A1-series tank gunner with a security clearance. When he got back home, he worked as a police officer for three months, quit to go back to college and quit that to become a writer. Edward's favourite horror novel is Our Lady of Darkness by Fritz Leiber, but the author to have the greatest influence on him is H.P. Lovecraft. He lives in St. Pete Beach, Florida.
Edward Lee became a published author in 1982 with the novel Night Bait (written as Philip Straker), which the author himself admits is a "hunk of junk." His debut as Edward Lee was in 1988 with the novel Ghouls. Below is a list of Edward Lee's books in order of when they were first released:
Publication Order of Header Books
Publication Order of City Infernal Books
Publication Order of White Trash Gothic Books
Publication Order of Standalone Novels
Publication Order of Short Stories/Novellas
Publication Order of Short Story Collections
Publication Order of Children's Books
Publication Order of Non-Fiction Books
Publication Order of Anthologies
Notes: Night Bait and Night Lust were written using the pen name Philip Straker. Sacrifice was written as Richard Kinion. Golem was also titled Golemesque. Portrait of the Psychopath as a Young Woman and Dahmer's Not Dead were co-authored by Elizabeth Steffen. Family Tradition, Goon and Shifters were co-authored by John Pelan. The Teratologist was co-authored by Wrath James White.
Sixty-Five Stirrup Iron Road also contains stories by J.F. Gonzalez, Ryan Harding, Brian Keene, Jack Ketchum, Shane McKenzie, Bryan Smith, James Bryan Smith, Nate Southard and Wrath James White. Inside the Works also includes stories by Gerard Daniel Houarner and Tom Piccirilli. Splatterspunk also has stories by John Pelan. Of Pigs and Spiders also has stories by John Pelan, Brett Savory and David Niall Wilson. Partners in Chyme also includes stories by Ryan Harding. Mother Bitchfight also includes stories by Patrick Lestewka. Sleep Disorder also has stories by Jack Ketchum. Triage also includes stories by Jack Ketchum and Richard Laymon. Infernally Yours also has stories by John Everson, Charlee Jacob, Brian Keene, John Shirley and Maynard Sims.
If You Like Edward Lee Books, You'll Love…
Edward Lee Synopsis: In The Chosen by Edward Lee, hearing strange footsteps, seeing faceless figures and having erotic dreams make Vera Abbot begin to think that the inn she's staying at is the location of some unspeakable atrocities.
Shop Worldwide: Amazon.com | Amazon.co.uk | Amazon.ca
Order of Books » Authors »
2 Responses to "Order of Edward Lee Books"