Order of Elliott James Books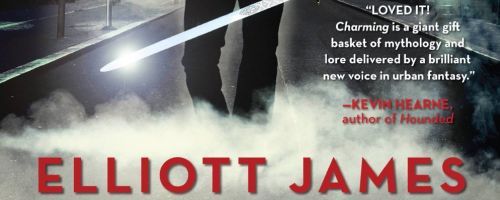 Elliott James is an author of urban fantasy novels and short stories. He writes the Pax Arcana series. Elliott began reading when he was three years old (or so his family claims). His interests include mythology, martial arts, live music, hiking, and used bookstores. He owns a cell phone, even though he believes aliens inserted them into our culture in order to track us like beasts in a herd. He sometimes lies, and became a writer so he could make money doing it.
Elliott James made his debut as a published novelist in 2013 with the novel Charming. Below is a list of Elliott James' books in order of when they were first released:
Publication Order of Pax Arcana Books
| | | |
| --- | --- | --- |
| Charmed I'm Sure | (2013) | |
| Pushing Luck | (2013) | |
| Charming | (2013) | |
| Don't Go Chasing Waterfalls | (2013) | |
| Surreal Estate | (2013) | |
| Daring | (2014) | |
| Dog-Gone | (2014) | |
| Bulls Rush In | (2015) | |
| Talking Dirty | (2015) | |
| Fearless | (2015) | |
| In Shining Armor | (2016) | |
| Legend Has It | (2017) | |
If You Like Elliott James Books, You'll Love…
Elliott James Synopses: Charmed I'm Sure is a 36-page short story by Elliott James, introducing readers to his Pax Arcana series. When Tom Morris encounters a naked man walking along the interstate with no memory of how he got there, he knows the smartest move would be to keep driving. The only problem is, Tom Morris has secrets of his own. One of them being that he comes from a long line of witch finders, monster slayers, and enchantment breakers, or that his real name is Charming. John Charming.
Pushing Luck is the second short story in the Pax Arcana series by Elliott James. Trying to make money off the grid, John Charming discovers an underground poker tournament where the hors d'oeuvres are made of human flesh and the players are gambling with much more than their money. All bets are off. Pushing Luck is 43 pages, or under 12,300 words.
Order of Books » Authors » Order of Elliott James Books