Order of Emily Hauser Books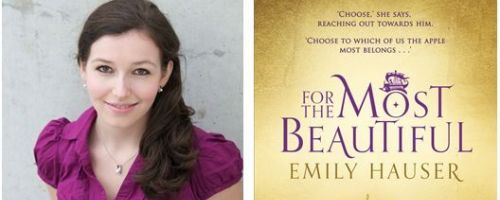 Emily Hauser is an English classicist author and the creator of the Golden Apple trilogy. Hauser studied the classics at Cambridge University where she was taught by the great English classicist Mary Beard.
After finishing at Cambride, Hauser went to Harvard as a Fulbright Scholar. From there she moved to Yale University where she earned her PhD in Classics and also teaches. Emily has won many academic awards in her time learning, including the prestigious University of Cambridge Chancellor's Medal and the Alice Derby Lang Essay Prize at Yale.
Publication Order of Golden Apple Trilogy Books
If You Like Emily Hauser Books, You'll Love…
The first book in her Golden Apple Trilogy is For the Most Beautiful. This is a continuation of Homer's classic Illiad as it focuses on two important, but lesser known characters: Achilles' 'prize', the girl Briseis, and Chryseis, the 'prize' of Agammenon. This book gives you a look at the bronze age Trojan War through the eyes of two women. Briseis is the loyal and passionate princess of Pedasus while Krisayis is the ambitious, determined daughter of the High Priest of Troy. This story manages to entwine the tales of these powerful women alongside Homer's classic story.
She followed that book up with For The Winner which takes the same approach to Jason and the Argonauts. We follow a retelling of the myth of Atalanta in her powerful run alongside Jason and the Argonauts in the search for the golden fleece. Atalanta is a powerful character who is just as strong and determined as she is athletic. This book removes a lot of the male assumptions of her character found in the original text and instead tells the story from her first person point-of-view. This allows her to show more control of her life and how motivated she was throughout her journey.
Order of Books » Authors » Order of Emily Hauser Books