Order of Erma Bombeck Books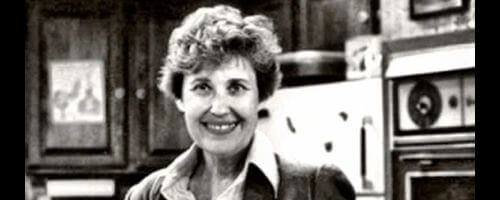 Erma Bombeck was an American humorist who was best known for syndicated newspaper humor column describing suburban home life from 1965 to 1996. She took the success from her column and published fifteen books in her career.
During her career, Bombeck wrote over 4,000 newspaper columns as she chronicled the life of a suburban housewife. Her first published book was At Wit's End which was a compilation of many of her newspaper columns. She got involved in politics in the nineteen seventies as was involved in the Presidential Advisory Committee for Women for the final implementation of the Equal Rights Amendment that tried to end the legal distinctions between men and women in matters of divorce, property, employment, and other matters. Erma passed away in 1996 from complications after a kidney operation.
Publication Order of Short Story Collections
Publication Order of Non-Fiction Books
| | | |
| --- | --- | --- |
| Erma Bombeck, Her Funniest Moments From "At Wit's End" | (1977) | |
| If Life Is a Bowl of Cherries What Am I Doing in the Pits? | (1979) | |
| Aunt Erma's Cope Book - How to Get From Monday to Friday in 12 Days | (1979) | |
| Just Wait Till You Have Children of Your Own! | (1979) | |
| The Grass Is Always Greener Over The Septic Tank | (1981) | |
| Motherhood The Second Oldest Profession | (1983) | |
| I Lost Everything in the Post-Natal Depression | (1984) | |
| Seven | (1985) | |
| Four of a Kind: A Suburban Field Guide | (1985) | |
| At Wit's End | (1986) | |
| Laugh along with Bombeck | (1986) | |
| The Ties That Bind and Gag | (1990) | |
| I Want to Grow Hair, I Want to Grow Up, I Want to Go to Boise | (1990) | |
| The Best of Bombeck | (1993) | |
| A Marriage Made in Heaven or Too Tired for an Affair | (1993) | |
| All I Know About Animal Behavior I Learned In Loehmann's Dressing Room | (1996) | |
| When You Look Like Your Passport Photo, It's Time to Go Home | (1997) | |
| Eat Less Cottage Cheese and More Ice Cream | (2003) | |
| When God Created Mothers | (2005) | |
Publication Order of Cookbooks
If You Like Erma Bombeck Books, You'll Love…
The Grass Is Always Greener Over the Septic Tank is one of Erma's most popular works. The book tells of when she and her family made the decision to move to the suburbs with all the great hope of a perfect life. Things don't quite go as she planned and the perfect life is anything but. That doesn't stop her and her family from trying to make the best of it as suburbanites are the last true pioneers.
Another classic from Bombeck is If Life Is a Bowl of Cherries, What Am I Doing in the Pits? This book is another humorous take on marriage and family life. This book is stories about her as an expert worrier and how marriage only strengthened that skill. She has many things to worry about in her married life, whether real or imagined, everything from snakes in the pipes to finding something to talk about on New Year's Eve. Married life is an unpredictable saga and that's just how Erma prefers it.
Order of Books » Authors »