Order of G.K. DeRosa Books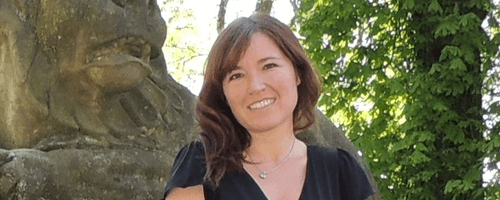 G.K. DeRosa is an American author of paranormal romance novels. She writes the Dark Blood Academy, Hitched, Guardian, Supernatural Prison Squad, Vampire and Angel Wars, Vampish, Wolfish, and other series. She is a USA Today bestselling author. DeRosa always loved reading YA novels, and still considers herself a 15-year-old at heart. She lives in South Florida with her family.
G.K. DeRosa made her debut as a novelist in 2017 with Magic Bound, beginning her Hybrid Trilogy series. Below is a list of G.K. DeRosa's books in order of when they were first released:
Publication Order of Darkblood Academy Books
Publication Order of The Dark Fae Books
Publication Order of The Guardian Books
Publication Order of Hitched Books
Publication Order of The Hybrid Trilogy Books
Publication Order of Of Gods and Wolves Books
Publication Order of Supernatural Prison Squad Books
Publication Order of The Vampire and Angel Wars Books
Publication Order of The Vampire Prophecy Books
(with J.N. Colon)
Publication Order of Vampish Books
Publication Order of Wolfish Books
Publication Order of Anthologies
If You Like G.K. DeRosa Books, You'll Love…
G.K. DeRosa Synopses: The Bachelorette by G.K. DeRosa is the first book in the Hitched series. One human girl who is innocent. 25 men who are supernatural and unattached. Six weeks to pick the best. When struggling actress Kimmie-Jayne Starr learns that she has been cast in the lead role of the upcoming big-screen reality show Hitched, she thinks that all of her dreams have come true. However, she experiences a strange sensation as soon as she lands on the picturesque island of Mystic Cove. She is certain that each of the twenty-five bachelors is concealing something supernatural, despite their stunning beauty. When she discovers that she is irresistibly drawn to multiple men as she gets to know them, it becomes impossible for her to guard her heart. Kimmie comes to the realization that there is a lot more to this dating show than she could have ever imagined as a series of bizarre mishaps on set cause more and more deaths. She will end up putting more than just her heart in danger if she is unable to identify the perpetrators of these occurrences.
Wilder is the first book of G.K. DeRosa's Guardian series. Celeste Wilder's only goal in life was to meet a man or woman who could sweep her off her feet, just like in so many romantic movies. She gets a lot more than she expected when she meets the beautiful and mysterious Constantin brothers in her senior year of high school. She is forced to make a decision that will alter her life forever as they introduce her to an exciting supernatural world that she had no idea existed. Along the way, she discovers shocking information about the legacy of her own family.
Wings & Destruction by G.K. DeRosa is the first book in the Vampire & Angel Wars series. The Vampire and Angel War devastated the nation and decimated the human population in less than a year, razing landmasses in pools of crimson blood and golden fire.
Seventeen-year-old Liv thinks the immortals have taken everything from her until a champion nephilim drops from the sky and grabs away the main individual she has left. In order to save Asher from the dreaded angel tower, Liv must now put her life at risk.
Even if it means putting her faith in beautiful stranger Declan, who saves her from two hungry vampires. Even though Liv doesn't want to admit it, she needs him to make it through the dangerous journey south. Although Declan is charming, strong, and cunning, he is definitely keeping things a secret.
Once those dark secrets are exposed, Liv will be forced to consider whether Declan will be the key to Asher's rescue or her ultimate demise.
Order of Books » Authors » Order of G.K. DeRosa Books