Order of Harlan Ellison Books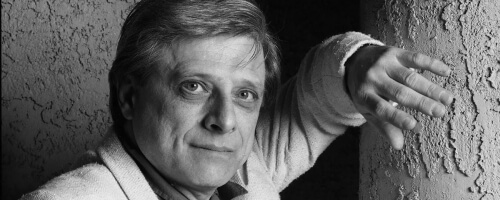 Harlan Ellison was an American author who was best known for writing his brand of New Wave speculative fiction. In his career, he had more than 1700 works published in a variety of forms from short stories to screenplays to comic books.
He may be best known for writing a very popular Star Trek episode called "The City on the Edge of Forever". He also won eight Hugo awards in his lifetime as well as four Nebula awards, five Bram Stoker awards, and two Edgar Awards. He earned numerous Lifetime Achievement awards and even was nominated for a Grammy award later in his life.
Publication Order of Vic and Blood Books
Publication Order of Standalone Novels
Publication Order of Short Stories/Novellas
Publication Order of Short Story Collections
Publication Order of Plays
Publication Order of Graphic Novels
(with Paul Chadwick)
Publication Order of Non-Fiction Books
Publication Order of Brain Movies Books
Publication Order of Dream Corridor Books
Publication Order of Star Trek Fotonovel Books
Publication Order of Mammoth Book of Best New Horror Anthology Books
Publication Order of Andromeda Books
(with George R.R. Martin, Brian W. Aldiss, Robert Holdstock, Bob Shaw, , Christopher Priest)
Publication Order of The Diogenes Club Books
(with Megan Lindholm, Richard Christian Matheson, Roger Zelazny, Tanith Lee, Jane Yolen, Gene Wolfe, Ramsey Campbell, Marvin Kaye, Kim Newman, , Lawrence Watt-Evans, , Esther M. Friesner, Douglas E. Winter, Stephen Laws, Christopher Fowler, Michael Marshall Smith, Keith Brooke, Chris Roberson, Poppy Z. Brite, F. Paul Wilson, Patricia A. McKillip, Craig Shaw Gardner, , , William Schafer, Stephen Jones, , Thomas Ligotti, Bruce Sterling, , James P. Blaylock)
Publication Order of Oz-Story Magazine Books
Publication Order of Hard Case Crime Books
(with Lawrence Block, Robert Bloch, Max Allan Collins)
Publication Order of Anthologies
If You Like Harlan Ellison Books, You'll Love…
One of the best collections of Harlan Ellison stories is Shatterday: Stories. This book features a number of interesting science fiction stories including the Hugo and Nebula award-winning story, Jeffty is Five. That story features a five-year-old boy who never ages, stuck living in a past that no longer exists. Antoehr great story features an alien attack on Earth that puts the planet on the brink of Armageddon, but the humans who remain are unable to resist the sexual allure of the alien invaders. The book is filled with thought provoking stories that will leave you thinking.
Another popular collection is Paingod: And Other Delusions. This book has another eight stories from Ellson including the title story, "Paingod". In this story, a minor deity has the ob of bringing pain to life forms across the universe. This book also includes "Repent, Harlequin, Said the Ticktockman" which is one of Ellison's most famous works. That story follows a man disguised the Harlequin who rebels against the Ticktockman and tries to disrupt his perfectly scheduled society. The story is unique as it begins in the middle, then moves to the beginning, and then goes the end.
Order of Books » Authors » Order of Harlan Ellison Books