Order Of Jeffe Kennedy Books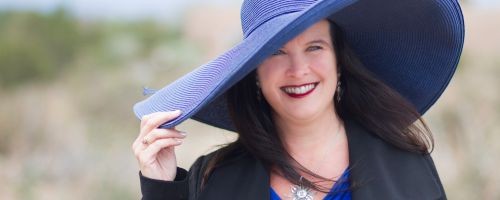 Jeffe Kennedy, residing in Santa Fe, New Mexico with her very handsome Doctor or Oriental Medicine, two Main coon cats, and a plentiful amount of free-range lizards. Jeffe has been a Ucross Foundation Fellow, was awared a Frank Nelson Doubleday Memorial Award and received the Wyoming Arts Council Fellowship for Poetry. She has authored many items for publications, such as Redbook. Jeffe's her series The Twelve Kingdoms book one, The Mark of the Tala has recieve a starrted Library Journal review and the sequel, The Tears of the Rose has been nominated for best fantasy romance of the year.
Jeffe's writing career covers decades and she also writes under the pen name Jennifer Paris which those books have also won several reader awards. Sapphire the first in the series Facets of Passion placed first in many romance contests and Platinum the follow-up novel is steadily climbing the charts. Her long time love for the Phantom of the Opera aided in her writing the Master of the Opera.
Publication Order of Bonds of Magic Books
Publication Order of Facets of Passion Books
Publication Order of Covenant of Thorns Books
Publication Order of Master of the Opera Books
Publication Order of The Twelve Kingdoms Books
Publication Order of Falling Under Books
Publication Order of Heirs of Magic Books
Publication Order of The Uncharted Realms Books
Publication Order of Sorcerous Moons Books
Publication Order of The Chronicles of Dasnaria Books
Publication Order of Forgotten Empires Books
Publication Order of Standalone Novels
Publication Order of Short Stories/Novellas
Publication Order of Short Story Collections
Publication Order of Anthologies
If You Like Jeffe Kennedy, You'll Love…
Beth Kery
Elle Kennedy
Julie Kenner
Jeffe Kennedy Synopsis:Sapphire, M. Taylor Hamilton successful executive is right on track with her ten year plan. Her personal life not so much as it consists of grocery shopping and going to the gym. Having a working relationship with seductive Adam Kirliss, but things change at an office party when he actually handcuffs her to the railing of a yacht! Taylor wants to write this off as having had too much champagne but Adam has other plans and challenges her to a date, she agrees and agrees to follow his rules. After sharing a night of incredible intimacy with both pleasure and pain, Taylor is fearful of losing her heart to Adam and pulls back emotionally. Adam however is determined to prove to Taylor that she craves the loss of control he is able to provide as well as the passionate releast. Is there a way Adam can make her see that he doesn't just want her body, but that he wants all of her?
Order of Books » Authors » Order Of Jeffe Kennedy Books