Order of Jon Krakauer Books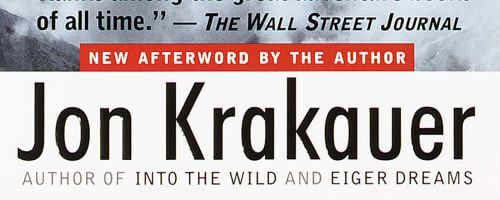 Jon Krakauer is an American writer of non-fiction books including Into Thin Air and Into the Wild. He was the recipient of an Academy Award in Literature from the American Academy of Arts and Letters in 1999.
Krakauer was raised in Oregon where his father introduced him to mountaineering at a young age. His experiences in that sport ultimately lead him to Mount Everest and the experience which would become Into Thin Air. Krakauer is also the author of Into the Wild which was turned into a film starring Emile Hirsch and directed by Sean Penn.
Publication Order of Non-Fiction Books
| | | |
| --- | --- | --- |
| Eiger Dreams: Ventures Among Men and Mountains | (1990) | |
| Into the Wild | (1996) | |
| Into Thin Air: A Personal Account of the Mount Everest Disaster | (1997) | |
| Under the Banner of Heaven: A Story of Violent Faith | (2003) | |
| Where Men Win Glory: The Odyssey of Pat Tillman | (2008) | |
| Three Cups of Deceit: How Greg Mortenson, Humanitarian Hero, Lost His Way | (2011) | |
| Missoula: Rape and the Justice System in a College Town | (2015) | |
| Classic Krakauer: Essays on Wilderness and Risk | (2018) | |
Publication Order of Essays
| | | |
| --- | --- | --- |
| Loving Them to Death | (2018) | |
| Gates of the Arctic | (2018) | |
| Living Under The Volcano | (2018) | |
| Mark Foo's Last Ride | (2018) | |
| After the Fall | (2018) | |
If You Like Jon Krakauer Books, You'll Love…
Into the Wild is one of Krakauer's most popular books. The book is the true story of Christopher McCandless who hitchhiked to Alaska to live alone in the wilderness, but ended up dying up there. McCandless came from a well-to-do family and had sought out on a sort-of vision quest after graduating college. He burned all his cash, changed his name to Alexander Supertramp, and found his way in the wild. He considered Alaska to be the ultimate challenge and headed that way, but ultimately found himself unprepared for the elements.
The book that put Krakauer on the map was Into Thin Air, the harrowing, personal account of the biggest disaster in Mount Everest climbing history. Krakauer was on the expedition on Mount Everest in 1996 which took five lives and left the rest guilt-ridden. The author himself is one of the peopel overwhelmed with guilt over the incident which turns up frequently in the pages of this award-winning book. The book provides a lot of detail of what went wrong that day as well as interviews and investigations of what happened that day which only lead to more guilt for the author.
Order of Books » Authors » Order of Jon Krakauer Books