Order of Karen Anders Books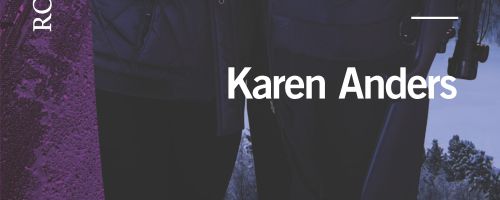 Karen Anders is an American author of romance novels. She also writes as Zoe Dawson. Karen got interested in romance through her grandmother, and began reading every single subgenre of romance available. It wasn't until she tried reading contemporary romance that she couldn't find one she really liked, so she decided to try writing them herself. Karen is originally from Vermont, but now lives in North Carolina. She has two daughters.
Karen Anders made her debut as a published author in 1997 with the novel Jennifer's Outlaw. Below is a list of Karen Anders' books in order of when they were originally released:
Publication Order of Women Who Dare Books
Publication Order of Red Letter Nights Books
Publication Order of Undercover Lovers Books
Publication Order of To Protect and Serve Books
Publication Order of The Adair Legacy Books
(with Carla Cassidy)
Publication Order of Standalone Novels
Publication Order of Coltons Of Texas Books
Note: Love You Madly (aka Red Letter Nights) also has stories by Alison Kent and Jeanie London.
If You Like Karen Anders Books, You'll Love…
Karen Anders Synopses: Jennifer's Outlaw is a standalone title by Karen Anders. He was a drifter more comfortable roaming the range – alone – than taking a wife and building a family. But from the moment he became her protector, Jennifer Horn felt a connection and could not help but want to make him hers. Corey Rainwater was running, from himself and his past, but also from the look in Jennifer's eyes. He could never be the husband she needed, or the father her precocious daughter so desperately desired. Because dreams weren't made for men like him. Or, that's what he came to believe…
Five-Alarm Encounter is a standalone novel by Karen Anders. Firefighter Grace Addison barely escaped the fire set by an arsonist that killed two of her colleagues. Physically scarred, racked by survivor's guilt and PTSD, the California beauty doesn't want to co-lead a task force assigned to nab the arsonist. Her partner is ATF agent Jordan Kelley – a man with his own secrets and private pain. At first, the sparks between Grace and the impossibly handsome Jordan are anything but romantic. The two wage a fierce tug-of-war for control of the investigation. But when the elusive firebug turns Grace's life into a fiery waking nightmare, she turns to Jordan for protection. If only she could resist his scorching kisses…
Order of Books » Authors » Order of Karen Anders Books