Order of Liz Fenton / Lisa Steinke Books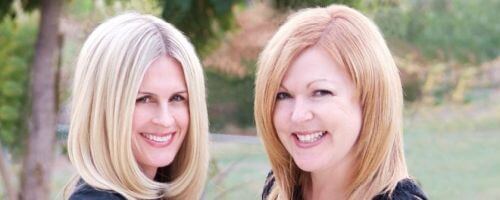 Liz Fenton and Lisa Steinke are a writing duo who grew up as best friends and started writing books together.
They initially wrote books in the romantic suspense genre although over the years have gravitated to psychological thrillers.

Writing a book together was a "pipe dream" for years that they eventually put into fruition. They wrote a book that they loved only to be told by all the publishing companies that chick lit was dead. That motivated them to create a website called Chick Lit is not Dead!. Eventually they gave writing another try and luckily it was a hit.
Often they will write books based on locations that they visit together. For example, the book Girls' Night Out is a psychological thriller about estranged friends who visit a resort in Mexico together. They visited the resort that they base their book on and visited the places that the book takes the characters to. It adds an extra element to the writing style with all the minute details that are written about based on this experience.
Publication Order of Standalone Novels
| | | |
| --- | --- | --- |
| I'll Have Who She's Having | (2011) | |
| Your Perfect Life | (2014) | |
| The Status of All Things | (2015) | |
| The Year We Turned Forty | (2016) | |
| The Good Widow | (2017) | |
| Girls' Night Out | (2018) | |
| The Two Lila Bennetts | (2019) | |
| How to Save a Life | (2020) | |
| Forever Hold Your Peace | (2023) | |
If You like Liz Fenton / Lisa Steinke Books, You'll Love:
How To Save A Life Synopsis: Taking a break from the psychological thriller genre, Liz and Lisa return to romantic suspense with this novel that is inspired by the movie Groundhog Day. Dom meets his ex-fiancee Mia in a coffee shop and realizes he still has feelings for her and arranges a date night for them. They go to the fair where Mia ends up dying in a horrific accident. Dom wakes up the next day only to realize Mia is still alive and their date is still scheduled for that night.
He thinks it might have just been some sort of bad dream however all the events that happened on the day of Mia's death happen again. Including Mia dying under different circumstances. When he wakes up to the same day again he realizes he has to try and save Mia to break the loop while also figuring out why exactly Mia is back in his life.
Order of Books » Authors » Order of Liz Fenton / Lisa Steinke Books