Order of Paula Graves Books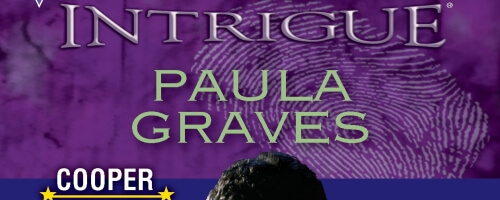 Paula Graves is an American author best known for writing mystery romance novels. As a young girl, her favorite books were all mysteries and romances – and she knew that she had found her calling when she realized that people wrote books that combined the two.
Graves wrote many popular book series in her career including the Cooper series, the Bitterwood P.D. series, the Campbell Cove Academy series. Graves was raised in Alabama and wears her Southern-ness on her sleeve. She learned from living down there that eccentric people make for the best stories. The need to tell stories was a driving force throughout her life and it ultimately lead to her career.
Publication Order of Bitterwood P.D. Books
Publication Order of Brody & Hannigan Mysteries Books
Publication Order of Browning Sisters Books
Publication Order of Campbell Cove Academy Books
Publication Order of Cooper Justice Books
Publication Order of Cooper Security Books
Publication Order of Daddy Corps Books
Publication Order of The Gates Books
Publication Order of The Gates: Most Wanted Books
Publication Order of Intrigue's Ultimate Heroes Books
Publication Order of Standalone Novels
If You Like Paula Graves Books, You'll Love…
Dead Man's Curve is the first book in The Gates series of books. The story sees Sinclair Solano, a CIA double agent turned fugitive, who knows that he needs to come in. his sister has been kidnapped by the rebels he betrayed and he needs to clear his name. He's looking to do all this while on the run which is made much more difficult with FBI agent Ava Trent on his trail. Solano has no choice but to team up with Ava if he wants to save his sister, but teaming up with her requires trust and that's something they'll need to build.
The Campbell Cove Academy series is another by Graves and the first book is called Kentucky Confidential. The book tells the story of Captain Connor McGinnis who has just seen a ghost – Risa, the love he thought he lost in a plane crash. Instead, Risa was relocated by the FBI because there was a price on her head. She has settled into a new life, but seeing Connor resurrects some sweet memories of their time together. As the price is still on her head, she'll need his protection more than his attraction.
Order of Books » Authors » Order of Paula Graves Books