Order of Robert Kroese Books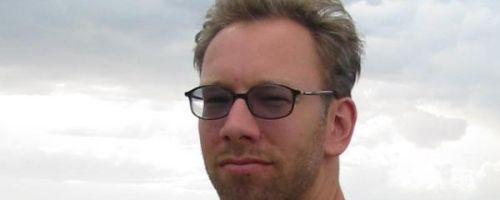 Robert Kroese is an American author of science fiction, fantasy and thriller novels and non-fiction books. He writes the Mercury series. Robert grew up in Grand Rapids, Michigan. When he was in the second grade, he wrote his very first novel – about Captain Bill of the spaceship Thee Eagle. Everything has been downhill since. He somehow graduated from Calvin College with a philosophy degree and was canned from several jobs before finding work as a software developer in California. While writing an absurdist blog and at the same time being named a church deacon, Robert saw the juxtaposition of these roles and used it as inspiration to create his Mercury character.
Robert Kroese made his debut as an author in 2007 with the non-fiction book Antisocial Commentary. His debut as a novelist came in 2009 with the novel Mercury Falls. Below is a list of Robert Kroese's books in order of when they were originally published:
Publication Order of Big Sheep Books
Publication Order of Counterfeit Sorcerer Books
Publication Order of Land Of Dis Books
Publication Order of Mammon Books
Publication Order of Mercury Books
Publication Order of Rex Nihilo Books
Publication Order of Saga Of The Iron Dragon Books
Publication Order of Standalone Novels
Publication Order of Short Story Collections
Publication Order of Non-Fiction Books
Publication Order of Anthologies
If You Like Robert Kroese Books, You'll Love…
Robert Kroese Synopses: Schrodinger's Gat by Robert Kroese is a quantum physics noir thriller. Paul Bayes has begun to feel like all of his actions are dictated by forces beyond his control. But when his suicide attempt is foiled by a mysterious young woman named Tali, Paul begins to wonder if the future is really as bleak as he thought. Tali possesses a strange power: the ability to predict tragedies and prevent them from happening. The possibility of breaking free from the grip of fate gives Paul hope. But when Tali disappears, Paul begins to realize that altering the future isn't as easy as it seems: you can fight the future, but the future fights back.
City of Sand is a standalone title by Robert Kroese. The year is 2000 and the city of Sunnyview in Silicon Valley is abuzz with the possibilities of vast fortunes to be made in the Dot Com boom. But to retired cop Benjamin Stone, who has come to Sunnyview to find his estranged daughter, Jessica, the promise of Sunnyview rings hollow. Benjamin grew up in Sunnyview in the 1950s, when it was a sleepy farming town, and he finds its modern day counterpart strange and weirdly insubstantial. After Jessica turns up dead in a creek bed, apparently murdered, Benjamin follows clues that suggest a conspiracy involving a startup company and a Silicon Valley pioneer with a disturbing past. As the mystery unravels, Benjamin must confront the reality of terrible crimes that occurred in the idealized town of his youth, which helped to make Silicon Valley what it is now. But as Benjamin attempts to unravel the conspiracy, all the clues begin to point toward a horrifying possibility: Sunnyview isn't what it seems.
Order of Books » Authors » Order of Robert Kroese Books