Order of Shirtaloon Books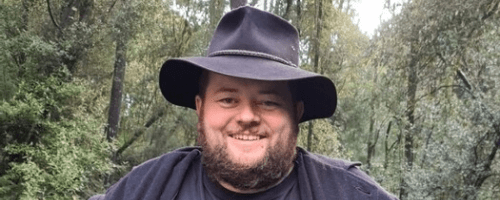 Shirtaloon is the pen name of Travis Deverell, who writes LitRPG fantasy novels. He writes the He Who Fights with Monsters series. He was busy writing a boring academic paper when he realized he'd much rather be writing material that was much sillier. He was delighted to find that his work had an audience, and he began to turn his writing to novels. Travis mixes high magic, exciting adventure, and absurd nonsense.
Shirtaloon made his debut as a novelist in 2021 with He Who Fights with Monsters, which began the series of the same name. He followed it up a couple of months later with another entry in the series. Below is a list of Shirtaloon's books in order of when they were originally published:
Publication Order of He Who Fights With Monsters Books
| | | |
| --- | --- | --- |
| He Who Fights with Monsters | (2021) | |
| He Who Fights with Monsters 2 | (2021) | |
| He Who Fights with Monsters 3 | (2021) | |
| He Who Fights with Monsters 4 | (2021) | |
| He Who Fights with Monsters 5 | (2022) | |
| He Who Fights with Monsters 6 | (2022) | |
| He Who Fights with Monsters 7 | (2022) | |
| He Who Fights with Monsters 8 | (2022) | |
| He Who Fights with Monsters 9 | (2023) | |
If You Like Shirtaloon Books, You'll Love…
Matt Dinniman
Michael Chatfield
Dakota Krout
Shirtaloon Synopses: He Who Fights with Monsters is the first He Who Fights with Monsters book. When Jason awakens, he wakes up in a strange, mysterious world of magic and monsters. It's not easy making the career jump from a middle manager at an office supplies store to heroic interdimensional adventurer. At least, Jason tries to be heroic, but it's hard to be good when all your powers are evil. He'll take on cannibals, cultists, wizards, monsters… all on the first day. He's going to need his courage, wit, and some new magic powers of his own. But first, he's going to need pants.
In He Who Fights with Monsters 2, the transition from retail middle management to interdimensional wizard adventurer wasn't smooth, but Jason Asano is getting used to his new life. Now, a contest draws young elites to the city of Greenstone, trying for a grand prize. Jason must round up a band of companions if he is to stand a chance against the best the world has to offer. While the young adventurers are caught up in competition, the city leaders deal with revelations of betrayal as a vast and terrible enemy is revealed. Although Jason seems uninvolved, he has unknowingly crossed the enemy's path before. Friends and foes made along the way will lead him to cross it again as inevitable conflict looms.
In He Who Fights with Monsters 3, Jason is still riding high off his success, and now he and his team are looking to the future and their next challenges. Nothing, however, could prepare him for the lessons his enemies have to teach. When magic is involved, the stakes can be even greater than life and death.
While Jason's personal enemies make plans, the greater foes plaguing his new home have been pushed to the brink. With one big move to make, they are on a collision course with Jason and his team. With no one to help and more than their lives on the line, Jason and his companions must fight with more monsters than ever in the race to grow stronger. With an invincible enemy already ready for them, they will learn that sometimes winning the battle is more important than surviving it.
Order of Books » Authors » Order of Shirtaloon Books