Order of Tom Rosenstiel Books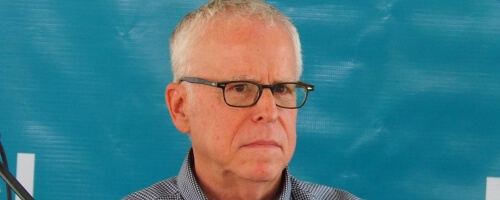 Tom Rosenstiel is an American author best known for writing the series of political thrillers featuring the character Peter Rena. Rosentiel is a long time observer of the political scene in DC which helps inform his writing.
When he is not writing, Rosenstiel works as the executive director of the American Press Institute. He is also a a senior fellow at the Brookings Institution. He lives, writes, and observes the DC scene in Maryland.
Publication Order of Peter Rena Books
Publication Order of Non-Fiction Books
| | | |
| --- | --- | --- |
| Strange Bedfellows: How Television and the Presidential Candidates Changed American Politics, 1992 | (1993) | |
| The Beat Goes on: President Clinton's First Year With the Media | (1994) | |
| Warp Speed: America in the Age of Mixed Media | (1999) | |
| We Interrupt This Newscast: How to Improve Local News and Win Ratings, Too | (2007) | |
If You Like Tom Rosenstiel Books, You'll Love…
The first entry in the Peter Rena series is called Shining City. The book introduces us to the title character as he is a "fixer" in Washington, DC alongside his partner Randi. The two of them work together to help make powerful people's problems disappear. They get the biggest job of their career when they are hired to vet a president's nominee for the Supreme Court. They soon find that they are in a whole new world as they start to do their job and find a world of journalists, power players, and senators all interfere with a frightening intensity.
Oppo: A Novel is a Rosenstiel's highly charged political thriller and second entry in the Peter Rena series. The book takes place during presidential primary season in the nation's capital on Washington, DC. Both of the political parties are on edge right now as there are incidents of violence and civil disobedience throughout the country. Wendy Upton is a high profile senator known for her centrist views and she's being offered the Vice President position by both political parties. As she is deciding, she receives a threat anonymously that puts a real scare into her. She decides to hire Peter Rena to investigate her past and find out which one of the political parties is responsible for this threat. Rena finds himself walking a tightrope between the two parties and doing his best to avoid political landmines.
Order of Books » Authors » Order of Tom Rosenstiel Books