Order of Victor Appleton Books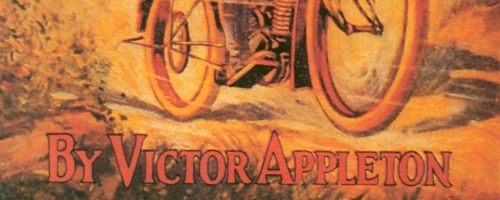 Victor Appleton is a house pseudonym created by Stratemeyer Syndicate, the group that created such franchises as Nancy Drew and the Hardy Boys. Victor Appleton is the name used most notably for the Tom Swift series as well as the Don Sturdy series. The Victor Appleton books would fall into the children's/juvenile adventure book genres.
The Victor Apppleton house name made its debut in 1910 with the book Tom Swift and His Motor Cycle. The name has been used as recently as 2007 with the Tom Swift, Young Inventor series. Below is a list of the books published under the Victor Appleton and Victor Appleton II names in order of when they were originally released:
Publication Order of Don Sturdy Books
Publication Order of Tom Swift (First Series) Books
Chronological Order of Tom Swift (First Series) Books
Chronologically, Tom Swift in the Caves of Ice comes before Tom Swift and His Sky Racer.
Publication Order of Tom Swift Jr. Books
Publication Order of Tom Swift (Third Series) Books
Publication Order of Tom Swift (Fourth Series) Books
Publication Order of Tom Swift, Young Inventor Books
Publication Order of Tom Swift Invention Books
Shop Worldwide: Amazon.com | Amazon.co.uk | Amazon.ca
Order of Books » Authors » Order of Victor Appleton Books