Order of Yuval Noah Harari Books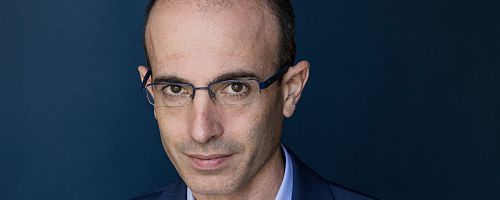 Yuval Noah Harari is a professor in the Department of History at the Hebrew University of Jerusalem. He has written numerous non-fiction books as well, including Renaissance Military Memoirs, Sapiens, and Homo Deus.
Prof. Yuval Noah Harari has a PhD in history from the University of Oxford. He is well known for writing Sapiens: A Brief History of Humankind which has been listed as a reading pick from everyone from Barack Obama to Bill Gates. The book has over 45,000 reviews on Amazon and has sold millions worldwide.
Publication Order of Unstoppable Us Books
Publication Order of Yuval Noah Harari Non-Fiction Books
| | | |
| --- | --- | --- |
| Renaissance Military Memoirs | (2004) | |
| Special Operations in the Age of Chivalry, 1100-1550 | (2007) | |
| The Ultimate Experience | (2008) | |
| Sapiens | (2011) | |
| Homo Deus | (2017) | |
| Clean Meat | (2018) | |
| Money | (2018) | |
| 21 Lessons for the 21st Century | (2018) | |
| Why We Love Dogs, Eat Pigs, and Wear Cows | (2020) | |
| Sapiens, Volume 2: The Pillars of Civilization | (2021) | |
Publication Order of Anthologies
If You Like Yuval Noah Harari Books, You'll Love…
Stephen Hawking
Malcom Gladwell
Sapiens: A Brief History of Humankind is a narrative of humanity's creation and evolution which explores the ways in which biology and history have defined us and what we think it means to be human. One hundred thousand years ago, six different species of humans inhabited Earth. However, only one of them remains. This book poses questions about what happened to the other species and what happened to us. This book manages to integrate history and science as it challenges the readers to reconsider the accepted narratives and connect things that happened deep in the past with things that are happening today. Dr. Harrai also looks forward to see where we are leading humanity.
Homo Deus: A Brief History of Tomorrow is more of a focus on humanity's future. The book tries to look at what is next for humanity and what will dominate our agenda going forward. Dr. Harrai explores the projects, dreams, and nightmares that will shape the 21st century, including topics like overcoming death and creating artificial life. Where do we go from here? is a question that drives the narrative. While Harrai also asks how will we protect this fragile world from our own destructive powers.
Order of Books » Authors »