Book Review: Don't Call Me Goon

Written by Graeme McGaw
It doesn't matter if you're a hockey fan or not; there's always a few select players who you'll always pay attention to when they pop up on the highlight reel. They're the bruisers, the tough guys, the fighters – the players who scare the crap out of any other player on the ice.
And now they're all chronicled in the book Don't Call Me Goon, a book featuring Hockey's greatest enforcers, Gunslingers and Bad Boys.
The book is written by Greg Oliver and Richard Kamchen, and is published by ECW Press. There's a whopping 277 pages within the book, as they try to cover as many of the hockey bad boys as they can.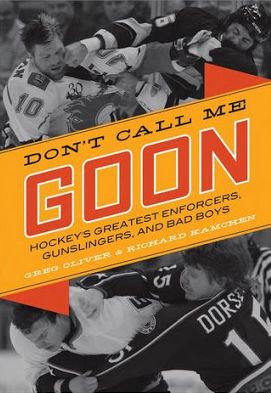 All the names are in here, separated by chapters. You've got the Original Six chapter featuring the likes of Gus Mortison, Orland Kurtenbach and Reggie Fleming. A section on actual teams – yep, the Broad Street Bullies are of course in here. Articles on the scorers like Clark Gillies and Jimmy Mann, as well as defenders such as Bob McGill and Paul Laus.
Oliver and Kamchen clearly know their hockey, and have went to great lengths to cover everyone they could possibly cover in the book. Tie Domi, Aaron Asham and Dave Semenko also make the list to no surprise. There are then a few bonus chapters to mix things up, like When Goalies Fight, or Hockey Movie Mayhem.
But what about the book itself? Obviously all of these players, and a topic like this, lends itself well to video. But does the topic lose anything when it is in book format?
Thankfully, they didn't try to capture the actual fight moments or offer a play by play or anything. Instead they offer insight into each player, with lots of fun stories about them. They've interviewed many of the players too, so you get their insight on the topic and you learn a lot more about them. For example Jay Miller, who initially trained to be a boxer, and later on quit hockey before the Nordiques picked him up and he made an immediate impression by fighting and beating up Dave Brown.
Reading about the player rivalries is also good too. You can really feel a player perk up when talking about that – they obviously loved those sort of rivalries and loved being on the ice against players who they knew they would be going toe to toe, fist to fist against.
Overall, Don't Call Me Goon is a very solid book written about hockeys bad boys. Rather than just seeing a few clips of them on Sportscenter and moving on, you get a lot of valuable insight into what they do, and why they do it. You'll also learn more about each player, written in a very entertaining manner.
Canadians the best price for this book is here at Amazon.ca and Americans, only $15 at Amazon.com.
Order of Books » Blog » Book Review: Don't Call Me Goon