Book Review: Heart of the Blackhawks

Written by Graeme McGaw
Pierre Pilote is a name that any hockey fan who watched during the 60s will never forget. One of the best defenseman of that decade, Pilote primarily played for the Chicago Blackhawks during his NHL career, except for a brief stint at the end for the Toronto Maple Leafs.
Pilote holds many accolades. He was the captain of the Chicago Blackhawks. He won the Norris trophy three times, and was on the all-star team for 7 years straight. He also played an absolutely sick 376 consecutive games. His #3 jersey was retired by the Hawks. He's a member of the Hockey Hall of Fame.
Yeah, Pierre Pilote is quite a big deal.
And now he can add "published author" to that resume.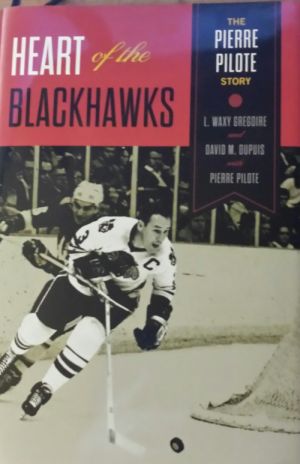 The Pierre Pilote Story, titled Heart of the Blackhawks, is written by L. Waxy Gregoire, David M. Dupuis and of course Pierre Pilote. Published by ECW Press it was released in September 2013, and counting acknowledgements is 357 pages long. Allow me to take a second to whine about the fact that it isn't exactly 376 pages long, to match his streak of games. That would've been a nice little touch.
This is the type of book that after reading, you've gained a whole new respect for the person and start seeking out YouTube videos of them to rewatch classic moments mentioned in the book. I liked that Pilote did not leave any stone uncovered. He wrote it all – from getting started as a kid, through his rise in Chicago to life after hockey.
One thing I really liked is that despite the length of the book – about 95% of it is about his time as a hockey player, mainly focused on the NHL and the Blackhawks. That's one thing that I really enjoyed – he got to the meat of the book quickly. He knows that's the type of stuff people want to read about and so he dives into it as fast as possible, where he then takes you through his career at a nice, leisurely pace.
The style of the book was very interesting – and rather refreshing. It was written in the style of a newspaper article. So you have a third-party writing the book and writing the stories and then actual quotes from Pierre. I read a lot of autobiographies so I appreciate it when one tries something different – and I really thought this style worked. It kept the book going at a great pace.
To get the ultimate enjoyment out of this book, you would have had to live through this era. I lent this book to a friend who had, and although he wasn't a Blackhawks fan he couldn't say enough good things about the book. The book breaks down a lot of matches from Pilotes perspective, and my friend said he just couldn't get enough of it. Memories of particular games and moments came flooding back to him, and he just couldn't put the book down.
While I didn't live through this decade of hockey, I still thoroughly enjoyed the book. It was great to get this level of insight into hockey from a players perspective, and also interesting to see how things were handled back in the 60s. For example when the Blackhawks raised the prices for the best playoff seats to $9 – $3 more than any other team – Blackhawks fans were furious and tried to boycott the game on television, turned on the PA announcer and threw a ton of garbage onto the rink.
This is less an autobiography, and more Pierre Pilote taking you through his whole career. A very solid, refreshing read and one I would recommend for hockey fans, highly recommend for Blackhawks fans, and feel it is a must-have for anyone who watched NHL during the 60s.
You can pick Heart of the Blackhawks up at Amazon. Click here.
Order of Books » Blog »