Book Review: Welcome To Maple Leaf Gardens

Written by Graeme McGaw
Welcome to Maple Leaf Gardens is the title of the book by Craig Abel and Lance Hornby. It is a pictorial history of the Maple Leaf Gardens, Canada's most famous arena.
And what a well-done book it is. From the selection of pictures they used to the back stories, this is a book that currently takes pride and joy at the top of my coffee table.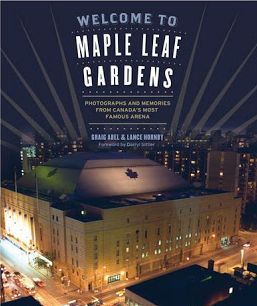 Clocking in at 213 pages, the photographs and stories are fascinating and I found it hard to put down. While it's the perfect "coffee table" book, it's something that you just start skimming and then you realize you're halfway through.
I actually put that to the test last week during football. A few buddies came over to watch, and all of them took turns during the breaks just pouring through the book and loving it.
The photographs are great, with such a tremendous variety to them. Flick to one page and you'll see action from the Canada Cup. Another page and you'll see pictures of the Leafs facing off against Russian teams who were touring, such as Moscow Dynamo. Pictures of the Toronto Rock lacrosse team, pictures of various celebrities attending games or meeting players, and even the classic "Toronto Leafs Are # One" streaker running across the ice. Don't worry – there's a Leafs logo appropriately placed.
What really makes the book is the stories. Instead of captions there is a story to most pictures. For example, the picture of Rick St. Croix being stretchered off the ice. They relate the story of how no-one could figure out how to get him off the ice as the stretcher was too wide. It took awhile before someone finally figured out they could just take a glass pane out temporarily.
It's really hard to rate a book like this, or throw out a recommendation. Really – whether or not you should buy it depends on who you are. For example – if you live in Ontario and are a hockey fan, you should most definitely get this. If you are a Leafs fan then yep – again you should definitely get this. Outside of that it really depends on your interest in photo-graphical history books of this style, as well as the Maple Leaf Gardens.
If you are interested in it then don't worry – you will not be disappointed. I've got 8 Leafs fans in my family and all 8 of them will be receiving this book for Christmas.
Canadians can order it here and Americans can purchase it for the best price here.
Order of Books » Blog »
One Response to "Book Review: Welcome To Maple Leaf Gardens"