Order of Trixie Belden Books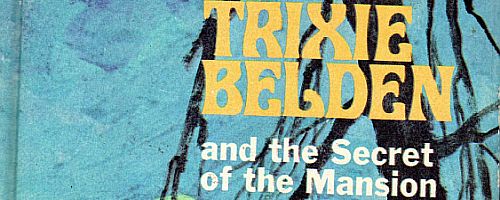 Trixie Belden is the star of a series of mystery books written by author Julie Campbell Tatham and, later, under the house pen name of Kathryn Kennedy. The books were released between 1948 and 1986 and are considered some of the best introductury mysteries for kids.
The series focuses on Beatrix "Trixie" Belden, a young teen who is living in the fictional town of Sleepyside-on-Hudson in the Hudson Valley in New York state. She lives on a farm that has ben in her family for generations. The books see her teaming up with her lonely, sheltered rich girl friend Honey Wheeler to solve mysteries. The two get help with brothers and friends as they have adventures, solve mysteries, and struggle with school.
Publication Order of Trixie Belden Books
| | | |
| --- | --- | --- |
| The Secret of the Mansion | (1948) | |
| The Red Trailer Mystery | (1950) | |
| The Red Caravan Mystery | (1950) | |
| The Gatehouse Mystery | (1951) | |
| The Mysterious Visitor | (1954) | |
| The Mystery Off Glen Road | (1956) | |
| The Mystery in Arizona | (1958) | |
| The Mysterious Code | (1961) | |
| The Black Jacket Mystery | (1961) | |
| The Mystery of the Velvet Gown | (1980) | |
| Trixie Belden And The Mystery Of The Missing Millionaire | (1980) | |
| The Mystery Of The Vanishing Victim | (1980) | |
If You Like Trixie Belden Books, You'll Love…
The Secret of the Mansion is the first book in the Trixie Belden series. This book establishes the friendship between Trixie and Honey Wheeler. The book starts with Trixie (not) looking forward to a boring summer as her older brothers go off to camp. Her circumstances change when a millionaire's daughter named Honey Wheeler moves into the mansion next door. The girls have an adventure on their hands when an old miser hides a fortune in his decrepit house, and a runaway kid starts hiding out in Sleepyside.
The series continues with The Red Trailer Mystery. Trixie and Honey are together here when their friend Jim runs away from town. He leaves before anyone could tell him that his is an heir to a huge fortune so the girls set off across upstate New York to track him down and tell him about his inheritance. However, the girls ends up stumbling into another mystery along the way and go about solving the case as it is what they are best at.
Order of Books » Characters » Order of Trixie Belden Books