Tales Of A First Round Nothing Review

Written by Graeme McGaw
My favourite sport without a doubt is hockey. I watch it religiously, attend as many Habs games as I can every season(I was there for Bruins vs Habs Game 3 in Montreal!), and even run an NHL Betting Tips website.
I've watched practically every hockey movie – including ALL the Mighty Ducks flicks, and read so many books. But one book I was really anxious to get my hands on was Tales of a First Round Nothing.
This book is written by Terry Ryan – 'memba him? Probably not. Ryan was drafted to the Montreal Canadiens in 1995. He was 8th pick in the draft, which was the highest pick the Canadiens had in a decade. He's also the answer to the trivia question "What Habs first-rounder went 3 picks ahead of Iggy?".
I didn't live in Canada at the time, nor was I into hockey then so when ECW Press sent me the book for review I made sure to ask some of my fellow Habs fans about Ryan, and their feelings at the time. It was basically a consensus of "Ha! I haven't thought of him in years", and "So much potential".
Here is the book cover: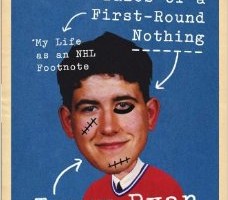 Ryan played just 8 games for the Canadiens, and 8 games total in the NHL. In this tell-all book the honesty from Ryan is refreshing. Right from the start, he explains that he is what they call a flop.
The book takes us through Ryans career, from his beginnings in British Columbia all the way through to after the Canadiens, when he was playing for the likes of the Hershey Bears.
What I really liked about this book however was how refreshing it was. It didn't follow your traditional formula that a biography does – instead it's just a host of stories, loosely connected in chronological order. From Ryan talking about losing his virginity and orgasming before the condom was even on – while his team-mates watched – to meeting and drinking with George Thorogood.
Of course, Ryan talks a lot about his career with the Canadiens, and the issues with Michel Therrient. But again he is very honest and won't put blame on Therrien for what happened to his career – and there's a nice chapter in the book where he is able to put any negativity to bed.
Tales of a First Round Nothing is a very entertaining read. So many biographies of hockey players I find rather dull but not here – as I said, it's basically a collection of stories and boy are some of them just hilarious. Ryan obviously has no worries about future bridges to burn or anything like that and he leaves nothing out. What I really liked was years later talking about the hockey he was playing etc – it was really cool to read it from that perspective, and see what life in the WCHL etc is all about.
Highly recommended for any hockey fan. It was a nice easy read with a lot of fun stories.
You can buy Tales of a First Round Nothing at Amazon.
Order of Books » Reviews » Tales Of A First Round Nothing Review