The Lost 10 Point Night Review

Written by Graeme McGaw
He's the answer to a trivia question – which player scored 10 points in one hockey game? The answer is Jim Harrison, the former Bruins, Leafs and Blackhawks player who in a WHA game in 1973 managed to score 3 goals and 7 assists.

But he's not a name that many hockey fans will recognize, despite setting that incredible record. However now you've got a great chance to learn about the man that played for 3 Original Six teams, as thanks to David Ward, Jim Harrison now has a book detailing his career The Lost 10 Point Night.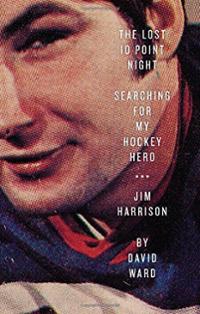 I'll admit – I hadn't really heard of him either. I do remember a discussion one night in a bar with some friends, and one of them talking about that night, but I had never heard of him. And to show, sadly, how obscure the Jim Harisson name is I can only find one video on Youtube with him in it – and it's a random fight against Brad Park.
However while perusuing ECW Press's books for review the memories of that chat about the 10 points came back to me, and as I read the synopsis of the book I knew I had to read more. It was a very open and honest synopsis, and I knew this would be a good book to read.
I initially expected it to be an actual autobigraphy – but it's more told from the perspective of David Ward. Jim Harrison was his boyhood hero, and he heads out to meet his hero and right a book about him as a tribute to him.
Also while it's the Jim Harrison story it's also the David Ward story too – reliving memories, recapturing his youth and meeting his hockey hero. It's also written almost as a challenge or response to Searching for Bobby Orr by Stephen Brunt.
Overall, I felt the book was solid – and pretty much exactly what I would want in a book like this. I don't know Jim Harrison and that means I don't need to know all the details of his life – thankfully the book doesn't go on like that. Instead it's a short but sweet book, just 145 pages and a very quick read.
While often I do like longer books I felt this one was perfect in length. Most of the audience is probably like me – they've vaguely or never even heard of Jim Harrison. So a book like this is one that you can quickly read and it never gets dull – instead you learn a lot more about Harrison, and the game at that time.
Jim is very open. He talks about the players association, pedophiles, rotten agents and the game itself. It's also always fascinating to get an insight into the game at that time, and through the eyes of someone that played in both the WHA and NHL.
Overall, this is a solid book that I would recommend. It's a very easy book to read, and each individual story is kept short. I figured it was a book I'd pick up and read from time to time, but I ended up flying through it in one afternoon. One cool thing too with ECW Press is if you buy the book, you also get an e-book copy of it for free.
Read more about the Lost 10 Point Night at Amazon.
Order of Books » Reviews »