Wanna Cook? Review

Written by Graeme McGaw
There's no denying that Breaking Bad was just a completely epic show. It's hard to think of any other television show that is universally loved as much as Breaking Bad. I watched Season 1 to Season 4 and the first half of Season 5, and it was all so good that I went back and rewatched it all before the final season.
It's a show that – although I've watched twice – I'm already planning out my next rewatch of it. And now I want to watch it even sooner, due to the new book sent to me by ECW Press: Wanna Cook – The Complete, Unofficial Companion to Breaking Bad", written by Ensley F. Guffey and K. Dale Koontz.
Now with a TV show as popular as Breaking Bad you know that a lot of people are looking at it as a cash cow. It's only natural. From t-shirts to books, we've seen more and more stuff pop up related to Breaking Bad every day. Some great, some very weak and clearly just put out there for the money.
I'm happy to report that Wanna Cook? is the former – it's quite honestly an amazing book, and the perfect companion for watching Breaking Bad just as subtitled.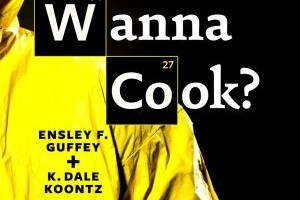 The amount of detail that goes into this book is incredible – these are clearly two authors who cared about the show, were passionate about the show – and also know what the audience wants.
Wanna Cook? Is ultimately an episode guide to Breaking Bad. It goes through every episode of the show providing so much detail about it. It's wonderfully written, as they break down the story of each episode, expected reactions and what actually happens, and provide great analysis on what is going on on-screen. Each episode recap is also well written almost in a story format – it's a very neat perspective and fun to read on each episode.
Where the book really shines though is the information AFTER each episode – and what I am really looking forward to when I go back and rewatch the show. Actually if you have a glance over at Amazon you'll see a trend in the reviews – every person who read it is now going to, or already has started, rewatching Breaking Bad simply due to this book.
For example after each episode recap we'll get the following:
Highlight: The highlight of the episode, usually a quote.
Did You Notice? Fun little facts, easter eggs and things you didn't notice. For example – "Jessy has a 45-day sobriety chip hanging from his review mirror", or the pizza that Walt throws on the roof isn't sliced. Some are ones that are obvious, but there are a ton of other small things in there you won't have noticed.
Shooting Up: A section talking about the camera angles and the usage of them throughout the episode. This is a neat section and really cool to see how they chose certain shots from certain perspectives.
Title: Explaining the meaning behind the title of the episode.
Special Ingredients: This goes into a lot of detail about a variety of things. For example in one episode Hank talks about high-end cartel work, so in this section they talk about the new players to the cartel wars Los Zetas, and provide a ton of detail on them. In another episode Jesse is shown playing the video game Rage, and they talk about product placement on TV.
There's also a lot more to various episodes.
Honestly – this is just a top, top book and the work the authors have put in is incredible. Be warned – if you buy this, it's going to make you rewatch the show again!
Order of Books » Reviews »