Order of Aleksandr Solzhenitsyn Books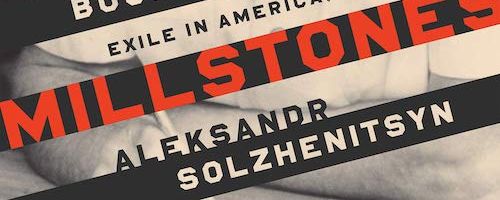 Aleksandr Solzhenitsyn was a Russian novelist and one of the most famous Soviet dissidents of all-time. Solzhenitsyn was a critic of communism and raised awareness of the political repression that took place in the USSR in his time. In 1970, he was awarded the Nobel Prize in Literature for the ethical force with which he has pursued the indispensable traditions of Russian literature.
Solzhenitsyn was a captain the Red Army during World War II before being arrested by the SMERSH for a private letter in which he criticized Joseph Stalin. He was sentenced to eight years in the Gulag for the crime and then internal exile. He was eventually released and exonerated after the Khrushchev Thaw, which lead to him pursuing writing. He published his first novel in 1962, One Day in the Life of Ivan Denisovich. When Khrushchev was removed from power, he was encouraged to stop writing, but he did not. He published The Gulag Archipelago in 1973 which outraged the Soviets and lead to him losing his citizenship.
Publication Order of The Red Wheel Books
Publication Order of Standalone Novels
Publication Order of Short Stories/Novellas
Publication Order of Plays
Publication Order of Collections
Publication Order of Non-Fiction Books
If You Like Aleksandr Solzhenitsyn Books, You'll Love…
The Gulag Archipelago: An Experiment in Literary Investigation is Solzhenitsyn's own account of his arrest and interrogation by the Soviets. The book exposed to the world the vast bureaucracy of secret police that existed within Soviet society. The book was called the best nonfiction book of the twentieth century and is credited with changing history.
Matryona's Place is a novel about a former Gulag prisoner and teacher who moves back to the Russian provinces where he grew up. He ends up taking a job at a school on a collective farm at Matryona's place. The two share a single room where they eat and sleep, and he finds little difference between life out here and that of the pre-revolutionary landlords and their serfs.
Order of Books » Authors » Order of Aleksandr Solzhenitsyn Books