Order of Alessandra Hazard Books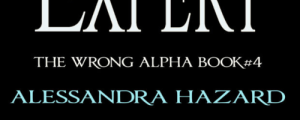 Alessandra Hazard is an author known for writing MM Romance series. She is the author of the Straight Guy series, the Calluvia's Royalty series, and the Wrong Alpha series.
As an author, Hazard loves romance with an edge and seeks to write that in her books. She is looking for the push-pull of two characters as they go through hate-to-love or friends-to-lovers. She has also said that she has a weakness for the classic Alpha Male archetype. The types that may be strong-willed and tough, but ultimately turn sweet for the one they love. In addition to writing, Alessandra is also a mom and an engineer.
Publication Order of Calluvia's Royalty Books
Publication Order of Masters Books
Publication Order of Straight Guys Books
Publication Order of The Wrong Alpha Books
If You Like Alessandra Hazard Books, You'll Love…
Unnatural is the first book in The Wrong Alpha series. The Kingdom of Pelugia and the Republic of Kadar have long been at war and are in desperate need of peace. A marriage is arranged to get that peace which sees Senator Royce Cleghorn marry Prince Haydn. Royce doesn't like his new husband or his alpha scent or his blue eyes… While Prince Haydn knows it is just a political arrangement, but he is beginning to crave his new mate. When disaster strikes their loyalties will be tested. Can they stay together?
Just a Bit Twisted is the first book in the Straight Guys series. The students all fear Professor Derek Rutledge as he is ruthless and doesn't put up with mistakes. Shawn Wyatt is a twenty-one-year-old on the verge of losing his scholarship which makes him desperate, so desperate that he goes to Rutledge for help. Everyone says he's a ruthless bastard and they're right. Now Shawn and Rutledge make a deal, but that deal soon turns into something much more than Shawn had imagined. Something that will consume them both.
Order of Books » Authors » Order of Alessandra Hazard Books