Order of Riley Hart Books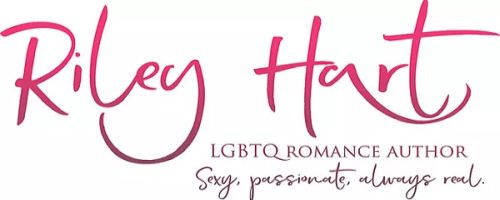 Riley Hart is a LGBTQ romance author who writes sexy and passionate stories. She considers herself to be a hopeless romantic and loves telling sexy stories. She is as big of a fan of reading as she is writing and really enjoys the works of Brad Boney, Tere Michaels, and David Levitan.
Hart is the author of the Blackcreek series as well as the Last Chance and Jared and Kiernan series of books. Hart lives in the state of California with her family. She is very active on social media as well and you can follow her at RileyHart5 on twitter.
Publication Order of Blackcreek Books
Publication Order of Broken Pieces Books
Publication Order of Rock Solid Construction Books
Publication Order of Crossroads Books
Publication Order of Wild Side Books
Publication Order of Metropolis Books
Publication Order of Last Chance Books
Publication Order of Jared & Kieran Books
Publication Order of Saint and Lucky Books
Publication Order of Standalone Novels
Publication Order of Graphic Novels
If You Like Riley Hart, You'll Love…
Fired Up is the first book in the Fever Falls series. This book tells the story of two men, Ashton and Beau. Ashton is a football player who uses the game to distract himself about the truth of his life. While Beau is a firefighter who never got to live his football dreams. The two have remained friends though and it's always Beau who calls him out on when he's not being himself. These two shared a kiss years ago that opened up a new world for Beau, but now it's Ashton who dreams of its return while Beau has sworn that he won't fall for Ashton.
The first book in the Blackcreek series is called Collide. This book tells the story of young Noah and Cooper, who met on a football field at the age of 10 and were best friends from that point forward, until Noah and his parents moved away. Seventeen years later Noah has returned to Blackcreek looking for a fresh start and he can't believe just how sexy his old friend turned out to be. What are the odds that these two best friends would meet again after all these years and both be gay, and available?
Order of Books » Authors » Order of Riley Hart Books