Order of Andrew Lane Books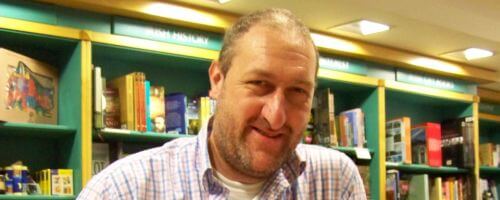 Andrew Lane is a British author of YA historical fiction, science fiction, and adventure novels. He writes the Young Sherlock Holmes series. Andrew is also a journalist. He studied Physics at Warwick University, where he was a contemporary and friend of fellow writers Justin Richards and Craig Hinton. He also writes as Andy Lane. Andrew lives with his wife and son in Dorset, England.
Andrew Lane made his debut under this name in 2010 with the novel Death Cloud, which began his Young Sherlock Holmes series. Below is a list of Andrew Lane's books in order of when they were originally released:
Publication Order of Young Sherlock Holmes Books
Publication Order of Lost Worlds Books
Publication Order of A Crusoe Adventure Books
Publication Order of Netherspace Books
Publication Order of AWOL Books
Publication Order of Short Story Collections
Publication Order of Doctor Who: New Adventures Books
Publication Order of Babylon 5: Nonfiction books Books
Publication Order of Virgin Decalog Books
(with Justin Richards)
Publication Order of Anthologies
Notes: Red Leech is also known as Rebel Fire. The Netherspace series is written with Nigel Foster. The Legends of River Song was written with Guy Adams, Jenny T. Colgan, Steve Lyons and Jacqueline Rayner.
If You Like Andrew Lane Books, You'll Love…
Andrew Lane Synopses: Lost Worlds is the first book in Andrew Lane's series of the same name. Calum Challenger is a boy with a mission: to track down supposedly mythological creatures and capture their DNA. But while Calum and his friends want to save these beings, an aggressive pharmaceutical company is looking to make them extinct.
Dawn of Spies by Andrew Lane is the second book in the Lost Worlds series. Rescued from a deserted Caribbean island, 17-year-old Robinson Crusoe and his female friend, Friday, end up in late 1600s London, a bustling city that proves as treacherous for them to navigate as the remote island they just left behind. Thanks to their honed survival skills, Crusoe and Friday are recruited by a young writer named Daniel Defoe to work as agents for Segment W, a covert spy group that reports directly to the Crown. Crusoe, Friday, and Defoe must rescue the Countess of Lichfield from a kidnapping plot. They discover that a mystical and mysterious organization known as the Circle of Thirteen is plotting to destroy Segment W and change the course of history through a royal kidnapping.
Order of Books » Authors » Order of Andrew Lane Books