Order of Annie Haynes Books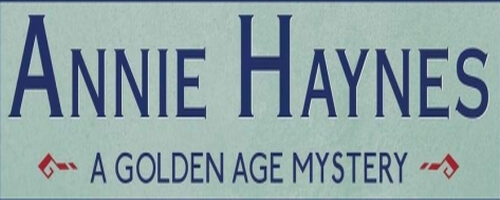 Annie Haynes was an English crime author who wrote multiple mystery novels before her untimely death. She debuted as an author with her first novel, The Bungalow Mystery in 1923.
Haynes lived in London during the first decade of the twentieth century where she moved in literary and early feminist circles. During her life she published ten novels. After her death, Who Killed Charmian Karslake? appeared posthumously, and another partially-finished work, The Crystal Beads Murder, was completed with the assistance of an unknown writer, and then published in 1930. Annie's best known work was her series of books, The Inspector Stoddart Mystery series.
Publication Order of Inspector Furnival Mysteries Books
Publication Order of Inspector Stoddart Mysteries Books
| | | |
| --- | --- | --- |
| The Man with the Dark Beard | (1928) | |
| The Crime At Tattenham Corner | (1929) | |
| Who Killed Charmian Karslake? | (1929) | |
| The Crystal Beads Murder | (1930) | |
Publication Order of Standalone Novels
| | | |
| --- | --- | --- |
| The Bungalow Mystery | (1923) | |
| The Secret of Greylands | (1924) | |
| The Blue Diamond | (1925) | |
| The Witness on the Roof | (1925) | |
| The Master of the Priory | (1927) | |
If You Like Annie Haynes Books, You'll Love…
The Inspector Stoddart Mystery series starts off with The Man with The Dark Beard. The body of Dr. Barstow is found with a note left beside it that reads "It was the man with the dark beard." The Doctor's daughter was engaged to Basil Wilton and Barstow didn't approve of the upon. When Barstow is found dead inside his office with the door locked from the inside, Basil becomes the chief suspect. Inspector Stoddart is on the case and there are plenty more clues and suspects to deal with. A lacquered box has gone missing, a colleague of Bastow's has suddenly shaved his beard; and the doctor's ex-secretary has come into money. Stoddart will have to sort through all these clues and more to solve the case.
Hayne's followed that book up with The Crime at Tattenham Corner. The book centers on a grisly discovery on Derby Day. The death would normally be overshadowed by the Derby, but the favorite Peep o' Day is owned by the murdered man and is now refusing to run. This means disqualification and Stottardt is wondering if this murder was somehow related to a rival racer trying to win the race.
Order of Books » Authors » Order of Annie Haynes Books