Order of Anthony Ryan Books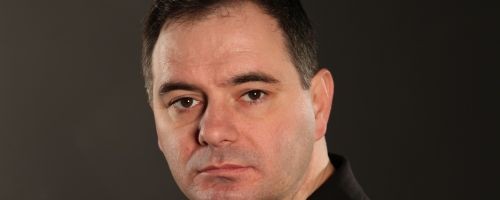 Anthony Ryan is a British author of fantasy novels. He writes the Raven's Shadow and Slab City Blues series. Anthony works full-time as a researcher with a degree in History. Anthony Ryan was born in Scotland in 1970 but has spend most of his life living in London, where he currently resides.
Anthony Ryan made his debut as a novelist in 2012 with the novel Blood Song. Below is a list of Anthony Ryan's books in order of when they were originally published:
Publication Order of The Covenant of Steel Books
Publication Order of The Draconis Memoria Books
Chronological Order of The Draconis Memoria Books
Publication Order of Raven's Shadow Books
Chronological Order of Raven's Shadow Books
Publication Order of Slab City Blues Books
Publication Order of Raven's Blade Books
Publication Order of Standalone Novels
Publication Order of Unfettered Books
(with Jim Butcher, Brandon Sanderson, Charlaine Harris, Terry Brooks, Naomi Novik, David Farland, Rachel Caine, Seanan McGuire, Scott Sigler, , Bradley P. Beaulieu, Michael J. Sullivan, Django Wexler, , Shawn Speakman, MarkLawrence, Sarah Beth Durst)
Publication Order of Anthologies
If You Like Anthony Ryan Books, You'll Love…
Anthony Ryan Synopsis: In The Waking Fire by Anthony Ryan (book 1 of the Draconis Memoria series), in the vast lands controlled by the Ironship Trading Syndicate, nothing is more prized than the blood of drakes. Harvested from captive or hunted Reds, Greens, Blues and Blacks, it can be distilled into elixirs that bestow fearsome powers on the rare men and women known as the Blood-blessed. But not many know the truth: that the lines of drakes are weakening. If they fail, war with the neighbouring Corvantine Empire will follow swiftly. The Syndicate's last hope resides in whispers of the existence of another breed of drake, far more powerful than the rest, and the few who have been chosen by fate to seek it. Claydon Torcreek is a petty thief and an unregistered Blood-blessed who finds himself pressed into service by the Protectorate and sent to wild, uncharted lands in search of a creature he believes is little more than legend. Lizanne Lethridge is a formidable spy and assassin facing gravest danger on an espionage mission deep into the heart of enemy territory. And Corrick Hilemore is the second lieutenant of an Ironship cruiser whose pursuit of ruthless brigands leads him to a far greater threat at the edge of the world. As lives and empires clash and intertwine, as the unknown and the known collide, all three must fight to turn the tide of a coming war, or drown in its wake.
Order of Books » Authors » Order of Anthony Ryan Books