Order of Chris McQueer Books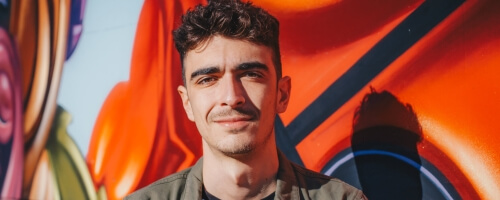 Chris McQueer is a Scottish author and spoken word performer. He is best known for using the Scots language to tell his story and his writing are a level of dark comedy and surreal humor that really appeal to a Scottish audience. Prior to becoming a published writer, McQueer worked as a "sandwich artist" at Subway.
McQueer got his start by self-publishing short stories on twitter. He eventually got enough followers that he was able to publish his first book collection, Hings, that collected the stories that he posted on twitter. That book won the Best Short Story Collection at the 2018 Saboteur Awards and his career has taken off since.
Publication Order of Standalone Novels
Publication Order of Short Stories/Novellas
If You Like Chris McQueer Books, You'll Love…
Hings is the debut story collection from Chris McQueer. The book is filled with stories that put surreal and witty twists on the everyday stories of our lives. McQueer's stories are filled with recognizable characters that you hope you never encounter in real life. One of the top stories focuses on Peter who has the night off despite Shelley needing him to cover his shift. There is no way that he plans to do it and brings in a group of friends to create the perfect cover story. That story and more fill this collection with hilarious stories.
McQueer followed that book up with HWFG: Here We F**king Go. The book features a ton more short stories that got some great reviews along the way. The book aims to answer some of the big questions in life like: What happens when we die? What does Brexit actually mean? Why are moths terrifying? What are ghosts like to live with? McQueer's world of stories is highly imaginative and filled with twisted humor that will have you viewing moths in a completely different light.
Order of Books » Authors » Order of Chris McQueer Books