Order of Daniel Friedman Books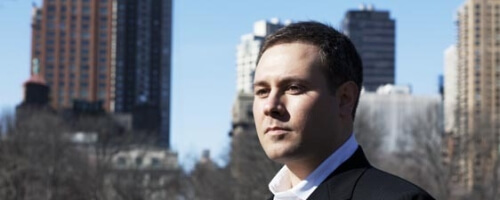 Daniel Friedman is an American author and lawyer. He is best known as the author of the Buck Schatz series of novels that began in 2012 with the release of Don't Ever Get Old. He is a Memphis native who graduated from White Station High School in 1999.
After high school, Friedman went on to attend the University of Maryland and then head to NYU's School of Law where he earned his law degree. He followed in the footsteps of his father who was also a lawyer. However, he sadly lost his father to gun violence when an upset client shot and killed him. While Friedman did go on to become a laywer himself, he has put that career on hold as he now writes full-time.
Publication Order of Buck Schatz Books
Publication Order of Lord Byron Mystery Books
Chronological Order of Lord Byron Mystery Books
If You Like Daniel Friedman Books, You'll Love…
Buck debuts in Don't Ever Get Old. He's a retired senior citizen at this time, but when he learns that a former adversary may have escaped to Germany with stolen gold, he's sprung into action. Buck decides to hunt him down and claim the loot for himself. Of course, he's not the only one and Buck will soon draw the attention of a very motley crew.
Running Out of Road is the third book in the Buck Schatz Mystery series. The book sees a former detective in the city of Memphis named Buck who retired decades ago. He's an old man now, frail and demented at the age of 72. His wife is getting sick and there's not much he can do about it so Buck finds solace in his past. However, his past is under attack as one of Buck's greatest moments was catching a serial killer named Chester March 35 years ago. He's finally gotten an execution date, but now there is a NPR producer who believes that he may have been innocent and he's looking to tear down Buck's reputation to prove it.
Order of Books » Authors »