Order of David Limbaugh Books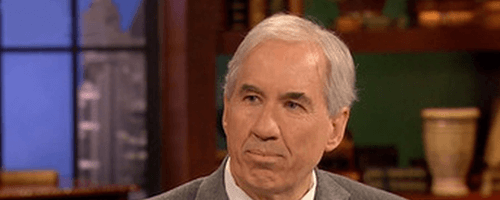 David Limbaugh is an American author and political commentator. He is best known as the younger brother of the late Rush Limbaugh. David made his debut as an author with the release of Absolute Power: The Legacy of Corruption in the Clinton-Reno Justice Department in 2001.
Limbaugh grew up in Missouri and went on to attend Southest Missouri State University and the University of Missouri. He would then go on to law school where he earned his Juris Doctor. David practices law and specializes in entertainment law. He became a Christian later in life and now describes himself as an evangelical Christian. He has written many books about Christianity, including Jesus on Trial and Jesus is Risen. The author makes his home in Cape Giradeau, Missouri. In addition to his books, Limbaugh is also a syndicated columnist.
Publication Order of Christian Books
| | | |
| --- | --- | --- |
| Absolute Power | (2001) | |
| Persecution | (2003) | |
| Bankrupt | (2006) | |
| Crimes Against Liberty | (2010) | |
| The Great Destroyer | (2012) | |
| The Conservative Word | (2015) | |
| The Emmaus Code | (2015) | |
| Jesus on Trial | (2015) | |
| The Left's Assault on the American Idea | (2016) | |
| Jesus Is Risen | (2018) | |
| The True Jesus | (2018) | |
| The Left Just Isn't Right | (2018) | |
| Guilty by Reason of Insanity | (2019) | |
| The Resurrected Jesus: The Church in the New Testament | (2022) | |
If You Like David Limbaugh Books, You'll Love…
Dan Bongino
Mark R. Levin
Jesus Is Risen: Paul and the Early Church is an account by Limbaugh of the birth of Christianity. In this book, David uses the Book of Acts and the six New Testaments to guide the story. A big focus of the story is Apostle Paul as he played a big part in many of the historic events. Paul overcomes a lot of obstacles in his mission to spread the Gospel. The author gets into the actions and challenges faced by the first Christian communities of the world.
Guilty By Reason of Insanity: Why The Democrats Must Not Win is a book where Limbaugh writes about how he believes that the left has lost its mind and how he believes that they area major threat. The book was written during the presidency of Donald Trump and spoke of how he believed that the left declared a political war against the President.
Order of Books » Authors »