Order of Diana Morgan Books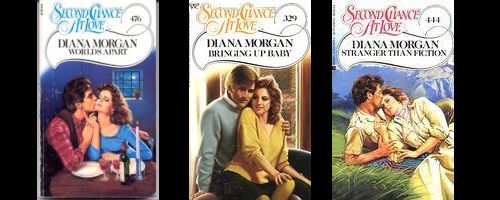 Diana Morgan was the author of romance novels in the 1980s and 1990s. The name of Diana Morgan was actually a pen name for a team of writers named Alex Kamoroff and Irene Goodman.
Moments to Share, released in 1981, was the first book that the authors released as Diana Morgan. During their time they wrote fourteen standalone novels as well as three book series: the Chapel Hill series, the Dreams trilogy, and the Fires series. The two authors eventually took their success with this pen name and began writing under their own names.
Publication Order of Chapel Hill Books
Publication Order of Dreams Trilogy Books
Publication Order of Fires Books
Publication Order of Standalone Novels
If You Like Diana Morgan Books, You'll Love…
Pocket Full of Miracles follows an ex-nurse named Mallory Taylor who takes a ferry to Nantucket in hopes of escaping the bossy doctors she dealt with in her own career. However, she finds the bossiest doctor of all on the island, Dr. Mac McClintock. He makes her senses tingle, but then also wants her help delivering a baby. He believes that she needs to loosen up and gets her to play a drinking game with him that leaves her plastered. Innocent outings between the two turn into sensual mayhem. Mallory begins to like it in the area and thinks of settling down in Nantucket, but Mac holds fantasies about sailing around the world. The two are drawn together, but something will happen that ensures he'll be part of her future for a long time to come.
Hidden Fires follows a gourmet food expert named Allegra Russo who is filled with both rage and desire when she meets Mark Trackman. She needs to rent office space form him for her business, but he refuses the request simply because she is a woman. That doesn't go over well with Allegra, but at the same time she finds a sweet side to the man. The two have an attraction, but first they need to settle the business matter. In order to do so, they will partake in a contest that makes them fierce competitors.
Order of Books » Authors »