Order of Emily Bronte Books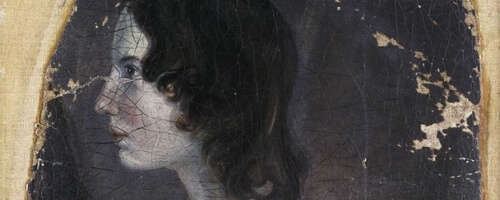 Emily Bronte was an English author best known as the author of the classic piece of English literature, Wuthering Heights. In addition, she also published a book of poetry with her sisters Charlotte and Anne titled Poems by Currer, Ellis and Acton Bell. The poems that she wrote in this edition are regarded to be poetic genius.
When she was 13, she and her sister Anne began writing about Gondal, a fictional island with myths and legends that the two would return to throughout their lives. While much it is lost, Emily's work at this time featured themes of romanticism and noble savagery that she would revisit later. She spent a brief period as an adult as a teacher, but ended up leaving due to poor health. When she first published Wuthering Heights in 1847, the violence an d passion in the book made many think that it was written by a man. Bronte was born in England in July of 1818 and lived until December of 1848. She passed away before she knew how popular her book would become. She was very very sick and so thin that her coffin measured only 16 inches wide.

Publication Order of Standalone Novels
Publication Order of Collections
| | | |
| --- | --- | --- |
| The Complete Poems of Emily Bronte | (1941) | |
| No Coward Soul Is Mine | (1993) | |
| Emily Bronte: Poems | (1996) | |
| Collected Poems | (2019) | |
Publication Order of Anthologies
| | | |
| --- | --- | --- |
| The Seventeenth Fontana Book of Great Ghost Stories | (1981) | |
| Mystery Stories | (1996) | |
| The Darker Sex | (2009) | |
| Writers: Their Lives and Works | (2018) | |
| Women Who Wrote | (2020) | |
If You Like Emily Bronte Books, You'll Love…
Wuthering Heights is the all-encompassing and passionate story of the love between Heathcliff and Catherine Earnshaw and how their relationship imagines to destroy their world. The book tells their entire history with the beginnings when a Mr. Earnshaw is living at Wuthering Heights with his son Hindley and daughter Catherine as well as Nelly Dean, who is working as a servant. Earnshaw heads to Liverpool and meets a homeless boy and decides to take him home, naming him Heathcliff. Hindley feels jealous of him throughout their lives while him and Catherine grow extremely close. This is only the beginning of their lives and there is much drama throughout with a story that spans generations.
https://www.youtube.com/watch?v=BW3gKKiTvjs
Order of Books » Authors »