Order of H.Y. Hanna Books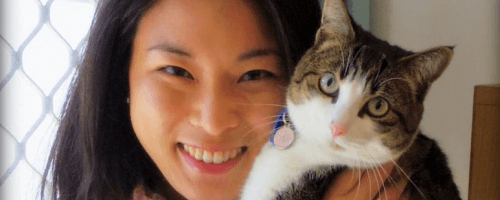 H.Y. Hanna is an author of cozy mystery novels. She writes the Oxford Tearoom Mysteries, Barefoot Sleuth Cozy Mysteries, Bewitched by Chocolate Mysteries, English Cottage Garden Mysteries, and other series. She is a USA Today bestselling author. Hanna earned her BA in Biological Sciences and her MSt in Social Anthropology from Oxford University. After trying several different jobs, she landed on what she considers her first love – writing. Originally from Taiwan, Hanna has lived in several different countries, but now makes her home in Australia with her husband and cat.
H.Y. Hanna made her debut as a novelist in 2013 with Curse of the Scarab. Below is a list of H.Y. Hanna's books in order of when they were first released:
Publication Order of Barefoot Sleuth Cozy Mysteries Books
Publication Order of Bewitched By Chocolate Mysteries Books
Publication Order of Big Honey Dog Mysteries Books
Publication Order of English Cottage Garden Mysteries Books
Publication Order of Oxford Tearoom Mysteries Books
Publication Order of Summer Beach Vets Books
Publication Order of Tender Mysteries Books
Publication Order of Anthologies
If You Like H.Y. Hanna Books, You'll Love…
H.Y. Hanna Synopses: Flip-Flops and Murder is the first book in the Barefoot Sleuth Mysteries series from author H.Y. Hanna. When English girl Ellie travels to sunny Florida for a vacation with her aunt at a luxurious beach resort, she feels like a fish out of water. However, her plans for a relaxing getaway are interrupted when she stumbles upon a sinister murder.
With sunburn, jet lag, and a mischievous parrot named Hemingway as her sidekicks, Ellie sets out to uncover the truth behind the crime. As a writers' conference takes place at the resort, there's no shortage of suspects. Was it a jealous rival author or the victim's secret lover? And why are some of the staff behaving suspiciously?
As if things weren't complicated enough, Aunt Olive has gone missing, fueling rumors that she may be on the run. Ellie's investigation takes her on a wild 'gator' chase led by the resort's resident cat Mojito, and she can't help but be distracted by the handsome resort doctor who makes her heart race.
As the red herrings pile up like sand dollars on the beach, Ellie must use all her wits to solve the case before her Florida vacation takes a deadly turn. Will she uncover the killer's identity before it's too late?
Dark, Witch & Creamy by H.Y. Hanna is the first book in the Bewitched by Chocolate Mysteries series. Caitlyn's world turns upside down when she discovers that she was abandoned as a baby and adopted by her American family. In search of answers about her past, she travels to a small English village where a man has been murdered and a mysterious shop selling enchanted chocolates is run by the "local witch."
As Caitlyn delves deeper into the village's secrets, she encounters a toothless old vampire, rescues an adorable kitten, and meets the charming Lord James Fitzroy. She soon discovers that she may have magical blood in her veins, and as she's drawn into the murder investigation, she realizes that dark magic is at play.
Caitlyn must choose whether to embrace her newfound powers and use them to solve the mystery and save those she loves. Will she be able to unravel the truth before it's too late? The stakes are high, and the clock is ticking.
Deadhead and Buried is the first book in H.Y. Hanna's English Cottage Garden Mysteries series. Poppy, a city girl, receives a letter offering her a chance to claim a mysterious inheritance in the English countryside. She sets off on a train, hoping to turn her hopeless dreams of paying off her debts, quitting her dead-end job, finding her father, and keeping a plant alive into reality. When she arrives, she discovers that her inheritance is a cottage garden nursery, complete with a talkative ginger cat, scented herbs, romantic climbing roses, and a dead body.
To avoid losing her new home and her chance for a fresh start, Poppy must solve the murder mystery. But with no experience in gardening, and little knowledge of the sleepy little village, she must search for clues in the most unlikely places. Could the reclusive inventor next door have something to do with the killing? What about the brooding crime author down the lane? And why is her long-lost cousin so desperate for her to sell the cottage?
As Poppy delves deeper into the mystery, she risks digging her own grave too. But with determination, a little bit of luck, and the help of the talkative ginger cat, she might just be able to uncover the truth and save her newfound home.
Order of Books » Authors »