Order of J.C. Eaton Books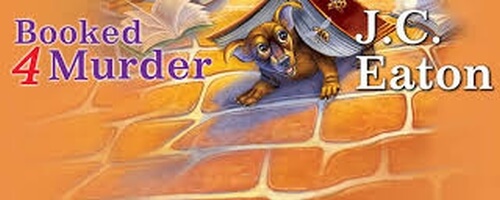 J.C. Eaton is an author of cozy mysteries, specifically the Book Club Mysteries. "J.C. Eaton" is actually just a penname for the writing team of Ann I. Goldfarb and James E. Clapp. The unlikely duo works well as a team.
While Ann was a fiction writer for some time before they started this series, James was working as a winery tasting room manager. The two would move to Arizona together and they realized that their community was ripe to have a story written about it. The two work well together as James performs a lot of the big picture ideas while Ann handles the details.
Publication Order of Marcie Rayner Books
Publication Order of Sophie Kimball Mystery Books
| | | |
| --- | --- | --- |
| Booked 4 Murder | (2017) | |
| Staged 4 Murder | (2018) | |
| Ditched 4 Murder | (2018) | |
| Botched 4 Murder | (2018) | |
| Molded 4 Murder | (2019) | |
| Dressed Up 4 Murder | (2020) | |
| Broadcast 4 Murder | (2020) | |
Publication Order of The Wine Trail Mysteries Books
| | | |
| --- | --- | --- |
| A Riesling to Die | (2018) | |
| Chardonnayed to Rest | (2018) | |
| Pinot Red or Dead? | (2019) | |
| Sauvigone for Good | (2019) | |
If You Like J.C. Eaton Books, You'll Love…
The first book in the Sophie Kimball Mystery series is called Booked 4 Murder. The book introduces to a divorced middle-aged mom who is working as an accountant clerk at a small police department in Minnesota. She's not a cop, but her mother is convinced that she is the only one who could possibly solve the case of the cursed book in her small Arizona community. She flies her in to help her. Her mother is in a book club and four members have died from reading this book. Or so she thinks. Sophie takes it seriously though and soon discovers secrets hiding in plain sight in this small retirement community.
Ditched 4 Murder is the second book in the series and it sees back in Arizona for her 74-year old aunt's wedding. Her aunt is putting her to work on the wedding with tons of task, but she gets a big one when a dead body turns up dead near her front door. Sophie will do her best to help with the investigation as long as her aunt doesn't keep her too busy with the wedding planning.
Order of Books » Authors » Order of J.C. Eaton Books