Order of Jacqueline Wilson Books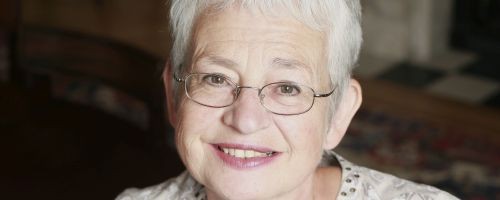 Jacqueline Wilson is an English author of children's novels. She writes the Tracy Beaker series. Jacqueline was born in Bath, Somerset, England, but grew up in Kingston-on-Thames, London. She grew up always wanting to be a writer and had her first "novel" written at age 9. She became a full-time author after having her daughter, Emma. When Jacqueline was a teenager, she worked for a magazine publishing company, and then wrote for the magazine Jackie (not named after her, despite what she was told) before becoming a full-time novelist. In 2002, Jacqueline was awarded the OBE for services to literacy in schools. From 2005 to 2007, she was the Children's Laureate. In 2008, she became Dame Jacqueline Wilson.
Jacqueline Wilson made her debut as a novelist in 1972 with the novel Hide and Seek. Below is a list of Jacqueline Wilson's books in order of when they were originally published:
Publication Order of Biscuit Barrel Books
Publication Order of Freddy's Teddy Books
Publication Order of Girls Books
Publication Order of Hetty Feather Books
Publication Order of Is There Anybody There? Books
Publication Order of Mark Spark Books
Publication Order of Stevie Day Books
Publication Order of Tracy Beaker Books
Publication Order of Twin Tales Books
Publication Order of Werepuppy Books
Publication Order of World Of Hetty Feather Books
Publication Order of Standalone Novels
Publication Order of Short Story Collections
Publication Order of Chapter Books
Publication Order of Non-Fiction Books
Publication Order of Anthologies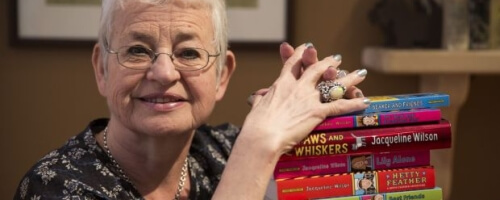 Jacqueline Wilson is an English writer best known for writing children's literature. She was a 2014 nominee for the international Hans Christian Andersen Award and in 2017 she received the Special Award at the BAFTA Children's Awards. Her work is considered important to many as she writes for a child audience while covering topics such as adoption, divorce and mental illness.
Wilson has written numerous children's series, but is perhaps best known for the Tracy Beaker that started in 1991 with The Story of Tracy Beaker. The series was so popular that it has been adapted into four CBBC series. In 2008, Wilson was appointed Dame Commander of the Order of the British Empire at the New Year Honours.
The Story of Tracy Beaker is the first book in the series following the title character. Tracy is in foster care and has been there as long as she can remember. She doesn't really know what her mother does, but she dreams that one day her mother will show up to reclaim her. Until then, she is on her own and does what she can to take care of herself. One day, a journalist shows up to write a story about the orphanage that Tracy helps with. It ends up being much more though as Tracy and the journalist strike up a special friendship.
Another popular book by Wilson is Dustbin Baby. It follows a girl named April who was abandoned in a rubbish bin fourteen years ago. She's happily settled with a foster mother now, but there is a part of her who has always wanted to know who her real mother is and why she literally threw her away. She wishes to find out so she can finally shake the nickname of "Dustbin Baby" that has stuck with her.
Notes: Simply the Best also has stories by Joan Aiken, Jonathan Allen, Sheila Lavelle, Jan Mark, Michael Morpurgo, Robert Swindells and Colin Thompson. Kids' Night In also has stories by Eoin Colfer, Annie Dalton, Michael Morpurgo, Garth Nix and Darren Shan. Shining On also includes stories by Malorie Blackman, Melvin Burgess, Meg Cabot, Anne Fine, Cathy Hopkins, Sue Limb, Celia Rees, Meg Rosoff and Rosie Rushton. Three for Tea also has stories by Anne Fine and Michael Morpurgo. Magic Beans also has stories by Adele Geras, Michael Morpurgo and Philip Pullman. We're Having a Party! also has stories from Helen Cresswell, Anne Fine, Hilary McKay, Jan Marks, Susan Price and Robert Swindells.
If You Like Jacqueline Wilson Books, You'll Love…
Jacqueline Wilson Synopses: Amber by Jacqueline Wilson is a novel about a girl whose mother was a groupie in the sixties. She tries desperately to live a conventional life, even though circumstances are against her.
In This Girl by Jacqueline Wilson, Coral gets a job as a nanny with a well-to-do family in London, but her outlook is changed when she befriends Pat, an unmarried mother.
The Left Outs is a standalone novel by Jacqueline Wilson. When Joan's parents split, she moves with her mother to a new town, where she has difficulty getting used to things at her new school. When her teacher fails to reward her dramatic talents with a leading role in the school play she starts her own drama group, with interesting results.
Order of Books » Authors »