Order of James P. Blaylock Books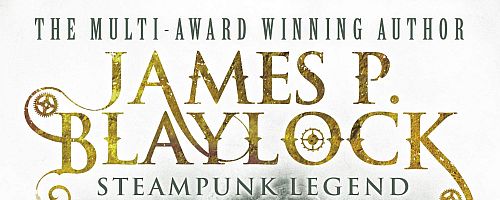 James P. Blaylock is an American fantasy author best known for writing the Narbondo series and the Balumnia trilogy. He won the Philip K. Dick Memorial Award for his Steampunk novel, Homunculus.
Blaylock makes his home in southern California. He is best known for writing steampunk novels and is considered to be one of the pioneers of the genre. When he's not writing books, James works as an educator. He began teaching composition in 1976 and has stayed doing it ever since. He has since become a tenured professor at Chapman University where he directs the graduate and undergraduate creative writing programs.
Publication Order of The Balumnia Trilogy Books
Publication Order of The Christian Trilogy Books
Publication Order of The Ghosts Trilogy Books
Publication Order of Narbondo Books
Publication Order of Standalone Novels
Publication Order of Collections
Publication Order of Short Stories/Novellas
Publication Order of Non-Fiction Books
Publication Order of The Diogenes Club Books
(with Megan Lindholm, Robin McKinley, Brian Hodge, Richard Christian Matheson, Harlan Ellison, Karen Joy Fowler, Stephen Gallagher, Edward Bryant, Roger Zelazny, Joan D. Vinge, Elizabeth Hand, Tanith Lee, Neil Gaiman, , Jane Yolen, Gene Wolfe, Ramsey Campbell, Peter Dickinson, Kelly Link, Marvin Kaye, Kim Newman, , Lawrence Watt-Evans, , Esther M. Friesner, Douglas E. Winter, , Stephen Laws, Christopher Fowler, Michael Marshall Smith, Bentley Little, Adam Roberts, Keith Brooke, Chris Roberson, Conrad Williams, Graham Joyce, Poppy Z. Brite, , , China Miéville, F. Paul Wilson, Lucy Taylor, Patricia A. McKillip, Craig Shaw Gardner, , , , Luis Alberto Urrea, , William Schafer, Stephen Jones, , Haruki Murakami, , Jeffrey Ford, Thomas Ligotti, Kevin Brockmeier, Bruce Sterling, Theodora Goss, , , , , , Terri Windling, Ellen Datlow, , , Carlton Mellick III)
Publication Order of The Year's Best Science Fiction Books
Publication Order of Anthologies
If You Like James P. Blaylock Books, You'll Love…
The Elfin Ship is the first book in the Balumnia trilogy. The book focuses on Master Cheeser Jonathan Bing. He used to find trading with elves easy as he'd just send a some good cheese down the river and the Elfin wonders would return to him. That was awhile ago though and things are more difficult now. The Willowood Station has been destroyed and a elfin airship started flying overhead. Jonathan decides to head downriver to deliver the cheese himself to figure out what has been happy. The trip ends up being quite eventful with the weeping skeleton, mad goblins, magic coins, an evil dwarf, a cloak of invisibility—and a watch that stopped time. The return trip will be even more eventful.
Blaylock also penned The Steampunk Adventures of Langdon St. Ives, a collection of Steampunk short stories of Professor Langdon St. Ives. The Victorian Adventurer St. Ives is a traveler through time and space. He's a member of the Explorers Club and the Royal Society, but often finds himself misunderstood. This book collects him and his friends as they face down strange enemies and avert catastrophes that the world scarcely knows exist.
Order of Books » Authors » Order of James P. Blaylock Books
2 Responses to "Order of James P. Blaylock Books"