Order of James P. Hogan Books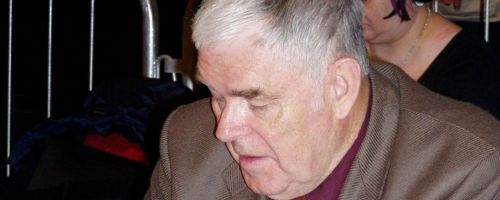 James P. Hogan was a British science fiction author best known for writing the Giants series. The series, and Hogan's writing career, began in 1977 with the release of Inherit the Stars.
Hogan was born in England and grew up on the west side of London. After schooling, he would head to the Royal Aircraft Establishment at Farnborough where he studied the practice and theory of electrical, electronic, and mechanical engineering. He worked as a design engineer and sales engineer until an office bet lead to him writing Inherit the Stars. Hogan began writing full-time in 1979.
Publication Order of Giants Books
Publication Order of Code of the Lifemaker Books
Publication Order of Cradle of Saturn Books
Publication Order of Standalone Novels
Publication Order of Short Story Collections
Publication Order of Chapbooks
Publication Order of Non-Fiction Books
Publication Order of Jupiter Books
Publication Order of Anthologies
If You Like James P. Hogan Books, You'll Love…
Inherit the Stars is the first book in the Giants series. The story begins with the man on the moon dead. He was known as Charlie and had big eyes and long nostrils. His remains were found in a bright red spacesuit, hidden in a rocky grave. Nobody knew who he was, how he got there, or how he dead. All that the people who discovered him on the moon knew was that his corpse was fifty thousand years old which meant that somehow this man had lived long before he ever could have existed.
Hogan is also the author of Migration, a standalone novel. This book takes place in a world that has been built from the ruins of a past society. The nation of Sofi has rediscovered advanced science as the rest of the world are going down a path which doomed their predecessors. The Sofi decide to build a starship that will enable them to create a new world somewhere else. The mission includes groups of idealists, reformers, misfits, and dissidents who want to build a new world. The only trouble comes when the old patterns that they are trying to escape from start to rear their ugly heads.
Order of Books » Authors » Order of James P. Hogan Books