Order of Jamie McFarlane Books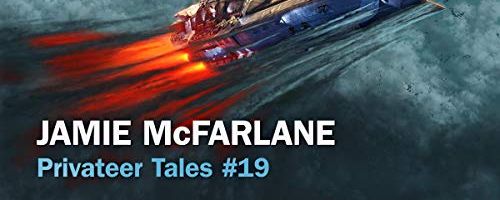 Jamie McFarlane is an American author best known for writing the science fiction book series, Privateer Tales. The series began in 2014 with the release of Rookie Privateer. He is also the author of the Junkyard Pirate series of books.
McFarlane attended the Colorado School of Mines and graduated with a Master of Science in Mathematics. He began his writing career on almost a dare as he was challenged by his mother to commit his fanciful tales into actual writing. After his mother passed away, he fully committed to the challenge as a tribute to his mother.
Publication Order of Privateer Tales Books
Publication Order of Privateer Tales Short Stories/Novellas
Publication Order of Witchy World Books
Publication Order of The Afterwar Saga Books
Publication Order of Henry Biggston Thriller Books
Publication Order of Junkyard Pirate Books
Publication Order of Space Troopers Books
(with Rachel Aukes)
Publication Order of Standalone Novels
If You Like Jamie McFarlane Books, You'll Love…
Rookie Privateer is the first book in the Privateer Tales series. Kiam Hoffen lives on an asteroid, but he's ready to get off of it and head home. He's passed the Mars Competency Test, but he's stuck here mining on a plot of land that may never pay off. Now, the girl of his dreams is shipping off to the Naval Academy and he has even less to be excited about. A brutal pirate horde set their sights on Liam's colony, and Liam and his friends are the only thing standing between the pirates and survival. They'll learn that the colony holds secrets far bigger than they imagined, secrets that could change everything – if they survive.
Junkyard Pirate is the first book in the series of the same name. Albert Jenkins is a Vietnam vet at the end of his rope. He's ready for the end and when a pile of rocket parts fall on him, he thinks that it is. Instead, he is offered a deal by a snarky alien parasite: his life in exchange for sharing his body. He ends up agreeing and his life is instantly improved. However, he finds himself at the center of a galactic conspiracy to strip Earth of precious resources humans don't even know exist.
Order of Books » Authors » Order of Jamie McFarlane Books