Order of Jerel Law Books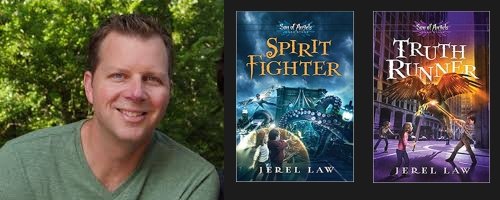 Jerel Law is an American author and pastor who is best known for his Jonah Stone: Son of Angels series of books. He began writing as a way to encourage his children's faith and the books have a strong religious slant.
Law is considered to be a gifted communicator which serves him well in his pastor work as well as his writing. He has more than twenty years of full-time ministry experience that continues today. Law attended the University of North Carolina at Chapel Hill before finishing up at Gordon-Conwell Theological Seminary where he received his master of divinity degree. Law lives in North Carolina with his family.
Publication Order of Son of Angels, Jonah Stone Books
Publication Order of Standalone Novels
If You Like Jerel Law Books, You'll Love…
Spirit Fighters is the first book in the Jonah Stone: Son of Angels series of books. This book sees Jonah and Eliza Stone learning that their mother is a Nephilim, a child of angels and men, and that they have special powers since they are both one-fourth angels. Soon after finding this out, their mother is kidnapped by fallen angels and the kids must use their power to save her. The children soon find themselves not only fighting for their mother, but fighting in the war between good and evil, and that God has a plan for them in this war.
The second book in the series is called Fire Prophet and it's one of the best reviewed books in the series. After the events of the first book, the kids find themselves looking to get their life back to normal. They head back to school, but normal is out the window when they are attacked at school by fallen angels. One-fourth angels are their new target and the kids are very much in the crosshairs. They'll need to undergo special training to improve their gifts to be ready for the battle that's ahead.
Order of Books » Authors »